---
---




<! *********************************************** >
ELÄINTARHARATA / DJURGÅRDSBANAN - Helsinki (FIN)

Type: Park circuit
Length: 1932: 2.034 km (1.264 mi). 1933 onwards: 2.000 km (1.243 mi)
Location: Eläintarha/Djurgården, a park in downtown Helsinki.
Used: 1932 - 1963

Finland's first and only real Grand Prix track was located in a park in central Helsinki. The main straight with pits, start and finish went parallel to the railway bank making a unique arrangement possible. A special train was built as a grandstand and moved with spectators from the railway station to its place near the track on race day. From the main straight the track went downhill through the kiosk section before coming down to the street in a sharp right hander. Circling the city greenhouses the track made another right hander, the wrongly banked kuolemankurva (the death curve). The track continued uphill, passing close to the Olympic stadium (built 1936-38) before turning left at the Olympic swimming stadium (built 1939-47) and going sharply downhill in a blind S-bend known as moukaripörssi (hammer ring). This proved to be an eventful bend with no room for mistakes. Leaving the track to the left the car would go down a slope ending up at the hammer ring. Passing the Eläintarha sports field, that also functioned as the paddock, the cars came to Nordenskiöld street where a last right hander returned the cars to the main straight.
The first race, known just as "Suomen Suurajot" (Finnish Grand Prix), was held in 1932. 40.000 spectators turned up to see Swede Widengren win in a Mercedes. For 1933 some changes were made to the track. The North curve at Nordenskiöldinkatu was rounded off, ending the track up with a length of exactly 2000 meters. The name of the races were also changed to Eläintarhanajot (Djurgårdsloppet in Swedish). A Mercedes was once again the winning car, but this time the driver was Ebb, scoring a popular home win that he repeated in 1935. Norwegian Björnstad also won the race twice, 1934 and 1936 and Hans Rüesch attended the 1937 race with his Alfa Romeo, taking an easy victory as Björnstad entered an Voiturette ERA. There was no race in 1938 as it should have clashed with a big airshow at the new Helsinki air field.
For 1939 the organizers threw out a feeler to see if they could attract the German teams to the race. Auto Union wasn't interested at all and Mercedes found the practice sessions too short and victory prizes too small. The last pre-war race got a surprise winner as the almost unknown Westerholm took an old Alfa Romeo Monza to victory.
The races continued after the war, 1946 for motorcycles only and from 1947 onwards also for cars, culminating in the early 50s with the visits of Belgian driver Laurent with a Talbot Lago Formula one car. Thereafter it was mostly F3 and sports cars until the last race in 1963. There had been political attempts to get the race stopped because of the noise but the organizers finally got a "go" for 1963. The Formula Junior race was interrupted by a multiple crash where Swedish driver Örjan Atterberg was fatally injured and that meant the end for Eläintarhanajot. It is doubtful that the track could have survived more than one or two years further anyway without major upgrading of the safety arrangements.
1932 SUOMEN SUURAJO / FINLANDS STORLOPP
1933 ELÄINTARHANAJOT / DJURGÅRDSLOPPET
1934 ELÄINTARHANAJOT / DJURGÅRDSLOPPET
1935 ELÄINTARHANAJOT / DJURGÅRDSLOPPET
1936 ELÄINTARHANAJOT / DJURGÅRDSLOPPET
1937 ELÄINTARHANAJOT / DJURGÅRDSLOPPET
1939 ELÄINTARHANAJOT / DJURGÅRDSLOPPET
<! *********************************************** >
---
KALASTAJATORPPA / FISKARTORPET - Helsinki (FIN)

Type: Park circuit
Length: 1.0 km (0.62 mi)
Location: A park in Helsinki, northwest of the city center.
Used: 1937

Kalastajatorppa (Swedish: Fiskartorpet) or "Fisherman's Cottage" is a restaurant in a park in western Helsinki. In 1937 there was a, not too successful, attempt to organize a motor race in the park. There was a lack of both spectator interest and organization ability. 17 spectators were injured when an walkover bridge collapsed during the standard car race. Ebb (Mercedes-Benz SSK) took a home victory in the GP class. The track was never used again. Looking at the terrain it is amazing that anyone could even consider using those roads for racing, the western part of the track being especially unsuitable with a very narrow road between water on one side and a hillock on the other.
1937 KALASTAJATORPANAJO/FISKARTORPSLOPPET
<! *********************************************** >
---
MUNKKINIEMENRATA / MUNKSNÄSBANAN - Helsinki (FIN)
Type: Road circuit
Length: 2.206 km (1.371 mI)
Location: (Former) suburb of Munkkiniemi, five kilometers northwest of Helsinki city center.
Used: 1932

1932 MUNKKINIEMENAJO / MUNKSNÄSLOPPET



<! *********************************************** >
BOGSTAD - Oslo (N)

Type: Temporary track on a frozen lake
Length: 5 km (3.1 mi)
Location: Bogstadvannet, a lake outside Oslo.
Used: 1935

For 1935 the Norwegian GP moved from Lillehammer to another frozen lake circuit, this time lake Bogstad in the Sørkedalen valley, a park area outside Oslo. Once again the name of the winner was Widengren. Transports and crowd control proved troublesome and the place wasn't considered for the race in 1936.
1935 NORGES GP (Ice race)
<! *********************************************** >
---
GJERSJØEN (N)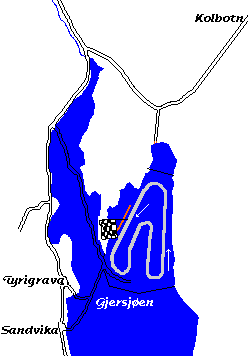 Type: Temporary track on a frozen lake
Length: Between 3 and 3.6 km (1.9 - 2.2 mi) depending on the year
Location: Gjersjøen (also spelt Gjersøen), a lake near Kolbotn, 15 km south of Oslo
Used: 1922 - 1936

The first Norwegian ice race took place at Bundefjorden south of Kristiania (Oslo) in 1912. The spectator control broke down and the ice broke up forcing a last minute change to the track that resulted in a head to head collision. The race was abandoned and it took 10 years before Kongelig Norsk Automobilklub (KNA) dared to do another try. They selected lake Gjersjøen for was to become the yearly main event in Norwegian ice racing until the Second World War.
The 1922 race was run on a 3.6 km oval track. 25 cars in three classes raced two laps on the track in pairs. Fastest driver of the day was Macken Aas in a Stutz. Next year 26 cars in four classes raced 3 laps on a 3.3 km oval. Bernhard Lund (Packhard) was winner of the biggest class. In 1924 the oval was 3.4 km and again Bernhard Lund was fastest of the 33 entries. There was no 1925 race because of the ice conditions but the next year no less than 37 cars in 8 classes raced 5 laps on a 3 km track. Robert Benoist, who made a guest apperence with a 1923 Delage 5L, completely stole the show.
In 1927 the conditions again hindered KNA from arranging the race. In 1928 the track was 3.3 km long and it was a 5 lap event. Leif Mathisen (Amilcar) was victorious in the racing class after Isberg (Bugatti) had been forced to retire. Isberg had better luck the next year, winning the racing class in an event that was held in very cold conditions. In fact Isberg was the only entry in the racing class after the engine blew on Fuglevand's Dodge. Due to the mild weather the 1930 race was moved to Randsfjorden some 50 km NNW of Oslo. However it becme a no-event after Oscar Wiger had a fatal crash in his de Soto during practice, the first fatal accident in Norwegian racing.
The 1931 race was a 5 x 3.2 km event, run in perfect conditions. Six cars started in the racing class including Bjørnstad (Bugatti) and three finished Cederwall-Larsen (Triumph) being victorious. Because of bad ice conditions Gjersjøløpet a.k.a Norwegian GP was moved to lake Mjøsa at Lillehammer for 1932-1934 and to Bogstad in 1935. In 1936 the race was back at Gjersjøen for the last time, Bjørnstad dominating the race in his old Alfa Romeo Monza. There was no ice race in 1937 and in 1938 and 1939 the races were held at lake Øyeren some 20 km east of Oslo as standard car events with no racing cars taking part.
1936 NORGES GP (Ice race)
<! *********************************************** >
---
MJØSA - Lillehammer (N)

Picture shows the 1932 track. The 1934 track was probably more twisty
Picture should probably be rotated 90° either clockwise or counterclockwise.


Type: Temporary track on a frozen lake
Length: 10 km (6.2 mi) in 1932, 1934, 3 km (1.9 mi) 1933
Location: Lake Mjøsa, south of Lillehammer, central Norway.
Used: 1932 - 1934

In 1932 the KNA Gjersjø race was moved, due to the ice conditions, to Lillehammer. An impressive GP track was created on the Lake Mjøsa and even otherwise the arrangements were the best in Norway thus far. Sadly the spectators failed the organizers, only 3000 turning up. Cai Jensen (Bugatti) was victorious, making the ten 10 km laps in a bit over 1 hour 9 min. In 1933 Lillehammer again held the race, this time on a 3 km track, with standard cars running 5 laps and racing cars 10. Bjørnstad won the racing class with is Alfa Romeo Monza. In 1934 15000 spectators turned up. Barges frozen into the lake served as grandstands. Swedish driver Widengren in his Alfa proved victorious. For 1935 KNA moved their main event to Bogstad.

The 1932 track:
800 m straight, 500 m left turn radius 500 m
100 m straight, 300 m left turn radius 100 m
400 m straight, 300 m right turn radius 400 m
350 m straight, 100 m right turn radius 40m
450 m straight, 100 m left turn radius 200 m
200 m straight, 100 m left turn radius 50 m
300 m straight, 500 m left turn radius wide
400 m straight, 200 m right turn radius 300 m
600 m straight, 200 m left turn radius 70 m
600 m straight, 200 m left turn radius 400 m
350 m straight, 50 m right turn radius 25 m
400 m straight, 250 m right turn radius 400 m
500 m straight, 350 m left turn radius 150 m
300 m left turn radius 400 m
1100 m straight

1934 NORGES GP (Ice race)


<! *********************************************** >
VRAM (S)

Type: Road course
Length: 29.7 km (18.5 mi)
Location: 15 km east of Helsingborg, southern Sweden.
Used: 1933

The first Swedish automobile race was held in 1904 but for many years racing in Sweden was then mostly restricted to endurance type competion. For 1933 the Swedish Royal Automobile Club (K.A.K.) announced that they would organize Sweden's first Summer Grand Prix at Norra Vram. A road section near Billesholm in the southern corner of Sweden in the county of Skåne (Scania county) had been selected.
The course went along ordinary roads that even today look mostly the same. The start was at the beginning of a 1200 meter long straight at Norra Vram. Then followed some curves before the store at Södra Vram where the course turned left. In those days the road passed closely to the store, rounding the house corner and continuing towards Kågeröd. This part of the course was quite winding with some decent straights but with only a few sharp corners. It was a fast sector for those who dared to keep the speed up and had had the car to do it. About one kilometer after the store in Södra Vram there was a somewhat wrongly banked right hander and once into Kågeröd there was a sharp left curve. That turn had been noticed to possibly cause problems and the house at the entry of the curve had been clad with bales of hay just in case. But the first corner had not been considered to be a dangerous one. In the middle of Kågeröd the course turned left and then after 50 meters again left rounding the church. After that began a long rise of several kilometers up Söderåsen (the Southern Ridge) all the way to Stenestad. Here the asphalt ended and the gravel road continued until the finish. The whole sector consisted of long and fast turns with long straights between them. In Stenestad there was a 90 degree left curve towards Norra Vram that led downhill from Söderåsen. That twisty section through beautiful nature, including a big beech wood, put great demands on the driver. When the course eventually emerged on the plains via a few sharp corners, there were sweeping turns over the fields and meadows to the road crossing in Norra Vram and a 75 degree left corner into the start straight and finish of the lap. The course was mostly asphalt and oil-gravel and on some places ordinary gravel road. The difference between the lowest and highest point of the course was 158 m. The roads had a width of at least 6 meters and the road condition was very good. The pits were placed on the inside of the track near the starting line with places for organizers, press and a restaurant on the other side of the course, between the road and the nearby railroad.
The race was completely overshadowed by a horrifying crash involving seven cars where riding mechanic Erik Lafrenz was fatally injured, two drivers were hospitalized and a car started a fire that burnt a house down to the ground. The course was never used again.
1933 SVERIGES SOMMAR GRAND PRIX
<! *********************************************** >
---
RÄMEN (S)

Type: Road course + temporary track on a frozen lake
Length:
1931: 47.7 km (29.6 mi)
1932: 46.1 km (28.6 mi)
1933: 46.25 km? (28.7 mi?)
1936: 46.5 km (28.9 mi)
Location: Near and on lake Rämen, north of the town of Ludvika,
200 km northwest of Stockholm.
Used: 1931 - 1936

On 1906 the Swedish Royal Automobile Club (K.A.K.), arranged the first vinter race event, a reliability race between Stockholm and Göteborg (Gothenburg). The event was repeted each year until 1914, 1920 and 1925-1930. When K.A.K. decided to replace the reliability race with a proper winter Grand Prix in 1931, they settled on a course that would put great demands on the reliability of the cars. The result was the world's first, longest and most demanding winter Grand Prix course. The Lake Rämen district in central Sweden was selected as a fitting location. Pits and stands where built where the railroad made a bend near the lake. Most of the spectators could thus be transported by train.
On the lake a 2 km section was cleared of snow to make a twisty ice track. Because of the pressure upon the ice, water was often gathered on the surface making the track extra slippery. After a lap on the ice the track continued into the woods nearby before returning to the frozen lake. The narrow forrest roads full of nasty surprises like sudden altitude changes, snow walls, twisty turns and narrow bridges put the same high demands on the competitors as Nürburgring with additional hazards because of the snow.
For the spectators the GP was more of a festival day than a motor race as the lap was 50 km long and cars were seen only once every 35 minutes making it almost impossible to follow the event.
The first race was held in 1931 and among the foreign entries Caracciola was the most renowned. But after the cars had lined up in line across the track and made their 8 laps it turned out to be a Finnish double victory with Ebb in an Auburn winning from newcomer Ramsey. The second Swedish Winter GP was held in 1932 when 60.000 spectators could see a home victory for Bennström racing a Ford. The 1933 race turned out to be a duel between Widengren's and Björnstad's Alfa Romeo Monzas with the former taking the top position in a field of 31 starters. There was a two year pause because of the fatal accident in Vram 1933 but the cars returned to Rämen in 1936 with both GP cars and a standard car class with 29 entries on a slightly shortened track. This time Björnstad got his victory. The 1936 race proved to be a economic failure and it would would be a 11 year interval before K.A.K. anew arranged the Swedish Winter GP, this time at the Rommehed airfield track in 1947.
1931 SVERIGES VINTER GRAND PRIX (Ice race)
1932 SVERIGES VINTER GRAND PRIX (Ice race)
1933 SVERIGES VINTER GRAND PRIX (Ice race)
1936 SVERIGES VINTER GRAND PRIX (Ice race)
(A news film from the 1933 race can be found here).

<! *********************************************** >
---
BRÅVIKEN (S)
Type: Temporary track on a frozen lake
Length: ~1.505 km (0.935 mi)
Location: Bråviken bay, Lindö, NE of Norrköping. 120 km SW of Stockholm.
Used: 1935

1935 LINDÖLOPPET (Ice race)
<! *********************************************** >
---
BRUNNSJÖN (S)
Type: Temporary track on a frozen lake
Length: 1.51 km (0.94 mi)
Location: Lake Brunnsjön, Hedemora. 150 km NW of Stockholm
Used: 1936

1936 HEDEMORALOPPET (Ice race)
<! *********************************************** >
---
FLATEN - Stockholm (S)
Type: Temporary track on a frozen lake
Length: 3.0 km (1.9 mi)
Location: Lake Flaten, 8 km south of downtown Stockholm.
Used: 1937

1937 FLATENLOPPET (Ice race)
<! *********************************************** >
---
FREDEN - Västerås (S)
Type: Temporary track on a frozen lake
Length: 1.385 km (0.861 mi)
Location:
Used: 1934-?

1934 FREDENLOPPET (Ice race)
1937 FREDENLOPPET (Ice race)
<! *********************************************** >
---
HEMFJÄRDEN (S)
Type: Temporary track on a frozen lake
Length: 5.2 km (3.2 mi)
Location: Hemfjärden bay, Lake Hjälmaren, 5km from Örebro.
Used: 1933

1933 SVENSKA ISLOPPET (Ice race)
<! *********************************************** >
---
HÖRKEN - Grängesberg (S)

Type: Temporary track on a frozen lake
Length: 1.5km (0.93 mi) / 1.2 km (0.75 mi)
Location: Lake Hörken, sorth of the town of Grängesberg, 200 km northwest of Stockholm.
Used: 1935-1936

The 1935 course was 1.5 km long. The 1936 course was 1.2 km long with a 300 m long straight and five curves: two half circles, a staight angle corner and two bad hairpins.
1935 HÖRKENLOPPET (Ice race)
1936 HÖRKENLOPPET (Ice race)
<! *********************************************** >
---
LÅNGFORSSJÖN (S)
Type: Temporary track on a frozen lake
Length: ?
Location: Långfors lake, near Sala, 100 km northwest of Stockholm.
Used: 1936

1936 LÅNGFORSSJÖLOPPET (Ice race)
<! *********************************************** >
---
VALLENTUNA (S)

Type: Temporary track on a frozen lake
Length: 4 km (2.5 mi)
Location: Lake Vallentuna, 20 north of central Stockholm.
Used: 1934 -

For the 1934 race a fast 4 km course was laid out on the lake consisting of two parallel 1400m long and 25 m wide straights a sweeping fast 40m meter wide north curve and a tight hairpin curve with room for only one car a time in the south end. The section at the start was 60m wide. The circuit was surrounded 40 meters from the track by a 4.5 km wire fence. The 1935 course (picture), also 4 km long, included more curves than the 1934 course.
1934 VALLENTUNALOPPET (Ice race)
1935 VALLENTUNALOPPET (Ice race)

<! *********************************************** >
---