---
Bernd and Elly together again
---

Berlin 7th July 2009. Not sure if this will turn out to be a wild goose chase but I know I would regret if I would not have a try.



Taking U3 to U-Bahnhof Oskar-Helene-Heim. Up the steps...



... turning left into Clay Allee...



... passing US Mission Berlin...



And after a 380m walk a left turn onto Hüttenweg...



Another 400 meter on Hüttenweg...



... and I have reached my target. A few kilometers further on along Hüttenweg lies the AVUS race track in the middle of Grunewald Forst.



Entering Waldfriedhof Dahlem. Now comes the hard part. I only have a code saying "11-4a". Hopefully there is a map somewhere.



Indeed there was a map on the wall near the gate and what I'm looking for seems to be less than 100 meter away. I should take the path that leads to the right before the trees ...



... then after a few meters a turn to the left, down the steps, and then left again.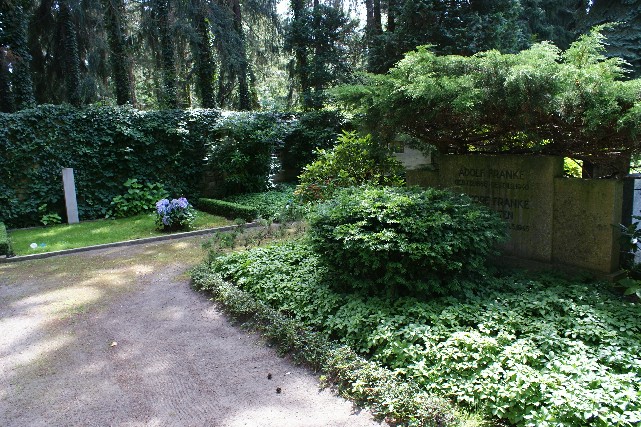 ... and immediately right again. Now, it should be the fifth or sixth one on the left side



I have entered a different world, a world of thick green vegetation, lots of flowers, peace and a beautiful calmness. Now, it should be here somewhere.



Bernd and Elly together again after 70 years. The flowers seem to build kind of a wall protecting them from the rest of the world.



Hard to put my feelings into words but It was quite an experience for me and I don't regret I spent one and a half hour on this.



.. and a few steps further forward around the corner. Their good friend.