---

<! ****************** GRAND PRIX de LA BAULE ***************************** >


IX GRAND PRIX de LA BAULE

La Baule (F), 13 August 1933
34 laps x 6.0 km (3.73 mi) = 204.0 km (126.8 mi) (Note 1)





"Williams" dominates the battle on the beach.

by Leif Snellman


The La Baule race was run in three classes on the French resort beach. "Williams" in a big Bugatti T54 dominated the large class from Lehoux and Falchetto. The 2 liter class saw a good fight between Veyron and Czaykowski until Veyron had to make a stop for repairs. He then pressed hard to retake second position. In the voiturette class an odd thing happened when all cars failed to reach the finish.
The Grand Prix de La Baule, organized by A. C. de l'Ouest since 1924, was once again run on the sandy beach of the French seaside resort La Baule - Escoublanc. The clockwise course featured two 3 km parallel straights which followed the path of the beach and were connected with hairpin bends, which were marked by a series of flags at each end. This was a sandy beach affected by the tide and the course always featured some, for racing unfamiliar hazards, like soft spots of sand, lumps of driftwood and thrown up seaweed. In 1933 the course seems to have been in particularly bad shape. "The Motor" also mentioned dug holes and sandcastles made by children! (Just imagine a T54 running through a sandcastle at 190 km/h!)
The entries were divided into three classes: 1.5-liter voiturettes, 2-liter cars and cars over 2 liter.
The driver covering the greatest distance would receive 30,000 F and cup value 10,000 F. Class awards: over 2 liter: 10,000 F , 8,000 F, 5,000 F, 3,500 F, 3,000 F and 2,000 F for the top six finishers; 2 liter: 8,000 F, 5,000 F, 2,500 F, 2,000 F, 2,000 F and 1,500 F; voiturette: 6,000 F, 3,000 F, 2,000 F, 2,000 F, 2,000 F and 1,500 F (Note 2).
With less than 6 finishers in a class the balance was divided among those retired according to distance covered.
Entries:
There were just four entries in the voiturette class and when Ernst Burggaller failed to turn up, it was a race between Jose Scaron in one of his rare 1933 appearances as he was on a tight budget and his old Amilcar was by now rather uncompetitive, Anne-Cécile Rose-Itier in an 8-cylinder voiturette Bugatti and Yves Desbois in a little Rosengart (an Austin Seven built under licence in Paris, France)
The 2 litre class comprised eight Bugattis raced primarily by French drivers. The entry list encluded two rather unknown drivers. Hungarian Istvan Hayczar from Vienna sporadically drove Walter Wustrow's Bugatti T35C. Henri Matile was a car dealer and garage owner from Nantes. According to Bugatti specialist Michael Müller Matile had bought the Bugatti T35C #4895, which was delivered to him on 26.7.1932. This was in fact an obsolete T39A works car from 1927, kept by the factory for sporadic use. They removed the 39D engine #3 and mounted the spare part 35C engine #150. For La Baule Charles Brunet was listed as driver but in the end Matile seems to have raced the car himself.
With its long straights the course fitted perfectly for the big Bugatti T54 and one was entered by William Grover-Williams, who as usual was racing under the pseudonym "W. Williams". The 2.3-liter Bugatti T51s entered by Jean Gaupillat and Hungarian László Hartmann did not appear. Benoît Falchetto raced the Nelly Braillard T51 (#51134). Marcel Lehoux had initially entered his newly delivered Alfa Romeo Monza but instead settled to race his old Bugatti T51. Three 2.3 liter Bugattis of the older T35B type were to be raced by A. Ducouret and Louis Braillard. The Swiss drivers Villars and von Waldthausen each entered an Alfa Romeo Monza while Ferdinand Montier's odd double engined Montier-Ford failed to turn up.
Race:
Beautiful weather favoured the event when the cars lined up on the beach in front of the casino and the starter dropped the flag at 3 PM.


Lehoux led the 18 cars away but almost immediately was passed by "Williams", who took control of the race. Lehoux tried hard to keep the pace but on the straight the T54 with its huge 5-litre engine pulled away. "Williams" did the second lap in2m21s, breaking the lap record while putting himself well ahead of Lehoux. That lap was probably the fastest during the whole race as the track soon got badly cut up in the corners. Falchetto was initially third but as he lost his second gear he had to let von Waldthausen by. But Falchetto did not give up. He was able to come to terms with the car and re-pass von Waldthausen for third. Ducouret made a stop to change plugs, dropping back in the results.
"Williams" took an easy victory, his third in succession, easing up at the end to let Lehoux close in to 32s seconds with Falchetto third.

In the 2 litre class Veyron led after the first lap but was then passed by Count Czaykowski. The two Bugattis were equally matched so Veyron and Czaykowski had a fine duel for 11 laps until the former had to make a pit stop to repair a broken oil pipe. Marcel Jacob then took over second position. Once back in the race Veyron soon pulled in Jacob and passed him for second position on lap 25 but Count Czaykowski was out of reach and took a comfortable class victory over 2 minutes in front of Veyron with Jacob third and the rest of the competitors far distanced.

In the voiturette class Scaron took the lead in his Amilcar followed by Mme. Itier. Scaron held the lead until lap nine when the Amilcar stopped with a broken piston in a cloud of blue smoke. Mme. Itier then led comfortably from Yves Desbois until she was rammed in a corner by another competitor and had to call it a day. The little Rosengart was now leading the voiturette class but it only lasted another two laps before it retired because of mechanical trouble. That meant that there were no competitors left in the voiturette race!


Results


Pos.
No.
Driver
Entrant
Car
Type
Engine
Laps
Time/Status
Diff

---

1.
4
"Williams"
"W Williams"
Bugatti
T54
5.0
S-8
34
1h25m14.2s
2.
10
Marcel Lehoux
M. Lehoux
Bugatti
T51
2.3
S-8
34
1h25m46s
+ 32s
3.
16
Benoît Falchetto
B. Falchetto
Bugatti
T51
2.3
S-8
34
1h29m07s
+ 3m53s
4.
8
Horst von Waldthausen
J. Villars
Alfa Romeo
Monza
2.3
S-8
34
1h29m42s
+ 4m28s
5.
22
Stanisłas Czaykowski
Count Czaykowski
Bugatti
T35C
2.0
S-8
34
1h32m16s
+ 7m02s
6.
20
Louis Braillard
W. Braillard
Bugatti
T51
2.3
S-8
34
1h32m43s
+ 7m29s
7.
24
Pierre Veyron
P. Veyron
Bugatti
T51A
1.5
S-8
34
1h34m34s
+ 9m20s
8.
26
Marcel Jacob
M. Jacob
Bugatti
T35C
2.3
S-8
34
1h36m23s
+ 11m09s
9.
30
Jean Delorme
J. Delorme
Bugatti
T35C
2.0
S-8
32
10.
6
Julio Villars
J. Villars
Alfa Romeo
Monza
2-3
S-8
31
engine
11.
18
A. Ducouret
A. Ducouret
Bugatti
T35B
2.3
S-8
28
12.
28
Jean Renaldi
J. Renaldi
Bugatti
T35C
2.3
S-8
21
13.
34
Henri Matile
H. Matile
Bugatti
T51
2.3
S-8
19
DNF
44
Yves Desbois de Fresnes
Y. Desbois de Fresnes
Rosengart
0.7
S-4
15
mechanical
DNF
38
Anne-Cécile Rose-Itier
Mrs. A. Rose-Itier
Bugatti
T51A
1.5
S-8
?
crash
DNF
26
Istvan Hayczar
W. Wustlow
Bugatti
T35C
2-3
S-8
10
DNF
42
José Scaron
J. Scaron
Amilcar
MC0
1.1
S-6
9
piston
DNF
32
"Eric Lora"
A. Cochin
Bugatti
T35C
2.3
S-8
2
Fastest lap: "Williams" (Bugatti) on lap 2 in 2m21s = 153,2 km/h (95.2 mph)
Winner's medium speed: 143.6 km/h (89.2 mph)
Weather: sunny.
---
Footnotes:
1. Paul Sheldon claims that the track was shortened for 1933 and quotes 68 x 3 km. But that would give medium lap times of 1m15s for Williams, so I'm quite sure it's a misunderstanding. By using 34 x 6 km as stated by Automobile Revue, would result in medium lap times of 2m30s, which would fit well with the 2m21s fastest lap given by Motor Sport.

2. Recounted from list in Motor Sport using 1£ ~ 83 F
---
Primary sources researched for this article:
AUTOMOBIL-REVUE, Bern
IL LITTORIALE, Roma
Motor Sport, London
The Motor, London
Special thanks to:
Marc Ceulemans
Michael Müller
Andrzej Jakubaszek
---


<! ****************** COPPA ACERBO JUNIOR ***************************** >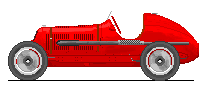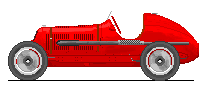 V COPPA ACERBO JUNIOR
(Voiturette 1100cc)

Pescara (I), 15 August 1933 (Tuesday).
4 laps x 25.5 km (15.85 mi) = 102.0 km (63.4 mi)






Straight in a MG surprises the Italians

by Leif Snellman


Whitney Straight in a MG K3 dominated the four lap 1100cc race leading from start to finish. He was followed by three Italians in their 4-cylinder Maseratis while the French entries disappointed and of them only Dourel (Amilcar) managed to finish the race.
The Coppa Acerbo junior race was for 1100cc cycle cars. Preceding the main race the car was to make four laps for a total of 102 km.
Entries:
Five of the entries were the same as at the Coppa Ciano Junior race two weeks earlier. New however were two MG K3 Magnette entries. Whitney Straight raced his black car. The other MG was listed with Bernhard Rubin as driver. Rubin's entry however is controversial as he is not mentioned in the Italian newspapers and it is unclear if he or Earl Howe was the driver.
There were five Italian entries. Three Maseratis were raced by Ferdinando Barbieri, Romano Malaguti and Giuseppe Furmanik. Raffaelle Cecchini raced a Fiat 508 Balilla coupé with a so-called aerodynamic body, license plate Roma 50922, and Alfredo Amato also entered a Fiat Balilla.
There were three French entries: Marcel Boucly (Cozette), Emil Dourel (Amilcar) and Victor Marret (Salmson).
Race:
Special trains from Rome, Naples and other cities had transported spectators to Pescara and even while the 1100cc race started early in the morning huge crowds of spectators already lined the course. The cars were lined up three and three on the grid.


At 8:40 a.m. the flag was dropped by Fascist Party Secretary Achille Starace and the race was on its way. Straight immediately took the lead followed by Barbieri and Furmanik. The trio kept well together during the first lap with the order remaining the same at the end of the lap. Straight did the first lap in 12m45.5s (119.3 km/h). At the end of the lap Dourel with his Amilcar made a five minutes pit stop before returning to the race.
During the second lap Straight opened up a gap to Barbieri. Furmanik was still third and Malaguti fourth. Straight's second lap with a time of 12m28s (122.7 km/h) was the fastest of the race.
At the end of the third lap Straight was leading Barbieri by 14 seconds and Furmanik by 25 seconds. Malaguti remained fourth.
Straight eased off a bit during the last lap and he took the victory with Barbieri 12 seconds behind him. Furmanik finished third, Malaguti fourth and Cecchini fifth after a superb effort with his little Fiat. Motor Sport and L'Auto list Rubin as sixth while Automobil Revue, La Stampa and Il'Littoriale have Dourel in sixth position. He was the only French entry to finish the race.
The Italians were unable to understand how a two-seater MG could beat the Maserati monopostos and someone made a protest. However Straight's engine proved to be within the regulations.


Results


Pos.
No.
Driver
Entrant
Car
Type
Engine
Laps
Time/Status
Diff

---

1.
4
Whitney Straight
W. Straight
MG
K3 Magnette
1.1
S-6
4
50m23.2s
2.
12
Ferdinando Barbieri
Scuderia Capredoni
Maserati
4CM
1.1
S-4
4
50m33.4s
+ 10.2s
3.
20
Giuseppe Furmanik
G. Furmanik
Maserati
4CM
1.1
S-4
4
51m04.6s
+ 41.4s
4.
16
Romano Malaguti
R. Malaguti
Maserati
4CM
1.1
S-4
4
51m59.8s
+ 1m36.6s
5.
22
Raffaele Cecchini
R. Cecchini
Fiat
508
1.0
S-4
4
56m57.2s
+ 6m34s
6?
2
Bernard Rubin
Earl Howe
MG
K3 Magnette
1.1
S-6
4
1m00m02.2s
+ 9m39s
6?
14
Emil Dourel
E. Dourel
Amilcar
1.1
S-6
4
1h02m06.2s
+ 11m43s
?
18
Victor Marret
V. Marret
Salmson
1.1
S-4
?
8
Marcel Boucly
M. Boucly
Cozette
1.1
Fastest lap: Whitney Straight (MG) on lap 2 in 12m28.0s = 122.7 km/h (76.3 mph).
Winner's medium speed: 121.5 km/h (75.5 mph).
Weather: sunny.
---
Primary sources researched for this article:
Il Littoriale, Roma
La Stampa, Torino
Motor Sport, London
The Motor, London
---


<! ****************** COPPA ACERBO ***************************** >



IX° COPPA ACERBO

Pescara (I), 15 August 1933 (Tuesday).
12 laps x 25.5 km (15.85 mi) = 306.0 km (190.1 mi)





Lucky Victory at the Coppa Acerbo

by Hans Etzrodt


The 1933 Coppa Acerbo far surpassed in importance all previous races held on this circuit, making it also the most significant grand prix race during the 1933 season. After the surprising driver changes within the Italian racing stables, some of them happened just days before this event, the drivers were to meet again for the first time in Pescara, to some extent with other cars. Several uncertainties appeared, creating many rumors that resulted in an unusual interest in the outcome of this race. The early battle among the 16 cars saw Campari in the 2.6-liter Alfa Romeo monoposto of 1932 fame fighting fiercely with Nuvolari in the proven 3-liter Maserati monoposto during the initial laps. This exciting fight came to an end when Nuvolari eventually out-raced Campari, who later crashed his Alfa while trying to keep up with the Mantuan. Fagioli, driving a rather consistent race in the other Alfa monoposto, moved into second place but posed no danger to the leader. Varzi and Dreyfus in 2.3-liter Bugattis could not keep up with those faster monopostos. Nuvolari was without doubt the dominant driver, the stimulating element, who battled magnificently with his Maserati and kept his threatening opponents in check. A big surprise occurred one lap from the end when Nuvolari stopped to fix a mechanical problem, which enabled the surprised Fagioli to take the lead. After resuming the race, Nuvolari was lucky to save second place, narrowly ahead of Taruffi in another Maserati monoposto. Varzi and Earl Howe in their Bugattis finished next while the lapped cars of Pellegrini, Grosch and "Hellé Nice" were flagged off.
Minister Giacomo Acerbo had named the race in honor of his brother Capitano Tito Acerbo, a decorated war hero, who was killed during the last year of WW I. The first race was held in 1924 when Campari burst a tire on his Alfa P2 and had to retire as he carried no spare. Enzo Ferrari in an Alfa RL then won the race from Bonmartini's Mercedes.
The same 25.5 km Pescara circuit was in use for 1933. It was triangular in shape like Reims, consisting of regular roads with all the normal road hazards. The Start/Finish line was outside the seaside resort of Pescara, where the road went straight for about one kilometer along the shore. Before Pescara the course made a wide right turn heading inland for about 11 km along a winding road up into the Abruzzi Mountains. The road led through forests and the hill villages of Villa Raspa, Montani, Spoltore, Pornace and Villa S. Maria, rising to 200 meters above sea level. Then began the descent to Capelle sul Tavo where there was a slow right hairpin exiting under a bridge. From here, the road led into the approximately 11 km long Montesilvano downhill straight to the coast at blistering speed. This was the fastest stretch of the circuit and included a one kilometer timed section, which was on a slightly downhill incline. The Montesilvano straight was followed by a fast right turn at Montesilvano railroad station, which led into the Lungo Mare straight along the coast back to the start and finish. The wide roads were thoroughly tarred and in top condition, allowing the cars to go at maximum speeds along the two enormously long straights. Nuvolari had done the fastest lap in 1932 at an average speed of 147 km/h in the 2.6-liter tipo B Alfa Romeo monoposto.
The Coppa Acerbo was Italy's second most important grand prix race in 1933 and consisted of 12 laps, making a total distance of 306 km. While the Targa Abruzzo race for sports cars had taken place over six laps or 153 km on Sunday, August 13, the Coppa Acerbo was held on the following Tuesday, August 15, which was the biggest summer holiday in Italy. It was called Ferragosto and was a catholic holiday in honor of Madonna Maria (the Ascension of the Blessed Virgin Mary).
Entries:
The international entries were first class. For the first time three Maserati 3-liter monopostos appeared, all independent entries for Nuvolari, Zehender and for the first time Taruffi was also seen in a Maserati. He had acquired this 3-liter monoposto with the economic support of two close Roman friends; however, the steering was offset to the right. Borzacchini had followed his friend Nuvolari and appeared for the first time in a biposto 8C 3000 Maserati. This was the car in which Campari had won the French Grand Prix. The other Maserati 8C 3000 was for Bernard Rubin, the same car that Tim Birkin had driven to third place at Tripoli. Whitney Straight arrived with his older two-seat 2.5-liter Maserati and a 1.5-liter Maserati was entered without a driver yet nominated.
Scuderia Ferrari had registered a team of eight cars, foremost two of the 1932 successful 2,6-liter tipo B Alfa Romeo monopostos, which the Portello factory had just released to the Scuderia. These cars were to be driven by the newly named team leader Fagioli, who had recently defected from Maserati, and by Campari, who had just joined the Scuderia after leaving Maserati following his disappointing race at Nice nine days previously. There was a possibility that Chiron, who had crashed his Alfa Monza just nine days before at the Swedish Summer Grand Prix, would also drive one of the Alfa monopostos. Trossi, Carraroli and Tadini were to start in 2.6-liter Alfa Monzas, Brivio and Comotti in 2.3-liter Monzas. Additionally, four separate Alfa Romeo entries with 2.3-liter Monzas were received from Lelio Pellegrini-Quarantotti but entered by Carlo, friends of Taruffi, the two Swiss drivers Rüesch and Grosch and the Italian Siena. There were five Bugattis, not the new 2.8-liter car but all 2.3-liter types, for Dreyfus in a factory car, Varzi in his own red car, plus Earl Howe and Brunet in type 51s and "Hellé Nice" in a 2-liter T35C. Cucinotta was due with a 1.5-liter Talbot, and Rondina with an O.M. Ghersi did not bring his usual Bugatti but arrived with the 2.3-liter Alfa Romeo Monza belonging to Angelo Capredoni from Genoa, which was also Ghersi's home town, and entered under the Scuderia Capredoni banner.
Nine race cars were entered for the small car class up to 1100 cc but only eight started over four laps in the Coppa Citta di Pescara race, which was held the same day before the Coppa Acerbo for the big cars.
Practice:
Nuvolari in the famous Maserati monoposto was one of the favorites for the race. Campari had last raced at the Nice Grand Prix where he had finished a disappointed eighth. It was a surprise to see Campari in an Alfa Romeo monoposto, which had been released just days before from the Portello factory. The 2.6-liter tipo B monoposto was not entirely new to Campari since he had raced this successful car in 1932. Therefore it was also no surprise to see that he was faster than team leader Fagioli. In earlier Pescara races Fagioli had always experienced a run of bad luck. The Alfa Romeo monoposto was new to him and it was quite evident that he was not yet familiar with the car and he naturally drove more cautiously. His tactics were to drive a wise and careful race and not such a hasty a race. Campari and Fagioli started for the first time this year in 2.6-liter Alfa Romeo monoposti against Nuvolari, Zehender and Taruffi in 3-liter Maserati monoposti. Not only sportingly but also technically the Coppa Acerbo could thus lay claim to the greatest interest.
A further sensation had almost happened when Scuderia Ferrari had made Varzi an offer to try one of their 2.6-liter monopostos. This invitation was done probably with the best intentions for future rides. Varzi inquired at Molsheim about their thoughts regarding him starting with an Alfa Romeo. The reaction appears to have been very unenthusiastic, because Varzi started in the race with the 2.3-liter Bugatti as usual. However he completed some practice laps in the Alfa Romeo monoposto during which he put in very good lap times. Whether Varzi would stay with Bugatti or possibly return to his home country would be known in the next few months when the first outlines of the new season would be revealed.
The Scuderia Ferrari entries of Trossi, Tadini, Brivio, Carraroli, Comotti and Chiron did not materialize. Likewise Rüesch, Rubin and Cucinotta did not appear for practice and Rondina did not start with the O.M. but remained as reserve driver for Pellegrini. That left just 16 drivers for the race.
Race:
Enormous crowds of spectators lined the circuit. The starting grid of sixteen cars was arranged by ballot. As in prior years the cars lined up three per row one behind the other. The road was much too narrow to allow staggered rows of three cars and spectators stood right next to the road. Pole position remained on the customary right side.

28
Howe
Bugatti



26
Pellegrini
Alfa Romeo



24
Campari
Alfa Romeo



38
Taruffi
Maserati



34
Varzi
Bugatti



30
Dreyfus
Bugatti



48
Hellé-Nice
Bugatti



46
Zehender
Maserati



42
Brunet
Bugatti



60
Straight
Maserati



52
Nuvolari
Maserati



50
Ghersi
Alfa Romeo



64
Siena
Alfa Romeo



62
Fagioli
Alfa Romeo



58
Grosch
Alfa Romeo



66
Borzacchini
Maserati


The start was set for late Tuesday morning at 10:00 AM when the Duke d'Aosta gave the starting signal. The drivers showed a noticeable impatience and nervousness, which was probably the reason why the front cars took off three seconds early. They accelerated with immense thunder, Campari's red monoposto Alfa Romeo in front, followed by Varzi's red Bugatti, Earl Howe's green Bugatti and Dreyfus in the blue factory Bugatti. Soon the faster cars from behind were catching up. During this first lap Nuvolari passed many cars until he found himself in second place behind Campari.
As they crossed the line at the end of the lap one, Campari's Alfa was right behind Nuvolari's Maserati in 11m03s, then Taruffi five seconds later, another 15 seconds to Fagioli with Varzi four seconds behind him. Zehender and Dreyfus were sixth and seventh, already 43 seconds behind the two leaders. Straight and Ghersi, one second apart, were eighth and ninth, 56s behind the leaders. Howe's time in tenth place was 12m12s, Brunet 14m49s, "Hellé Nice" 15m32s while Pelligrini was thirteenth and Grosch last. Siena had retired somewhere on the road with a mechanical breakdown. Borzacchini got stranded after only 12 km with a seized driveshaft universal joint at his Maserati's gearbox. He borrowed a bicycle on the spot, pedaled along the racetrack and eventually arrived at his pit as a modest cyclist to the amusement of the crowd.
The spectators experienced an unbelievably thrilling duel between the old rivals Nuvolari and Campari. Alternately one or the other was in the lead, neither being out of sight of the other. Behind them Taruffi followed in third place, Fagioli was fourth, Varzi fifth and Dreyfus sixth. Nuvolari finished the second lap in 10m44.4s; his total time was 21m47.4s, equal to 142.545 km/h. Campari followed three seconds behind, Taruffi 11.2 seconds and Fagioli 19.2s. Varzi in fifth place was isolated from the leading group, being 48.2s behind the leader and a time of 22m35.6s. Dreyfus was sixth 23m04.8s, Zehender seventh 23m11.6s, Ghersi eighth 23m45s, Straight ninth 23m46.8s, Earl Howe in tenth stopped at his pit, then came Brunet, Grosch, Pellegrini and "Hellé Nice", who also stopped at her pit, was last.
The exciting duel between Nuvolari and Campari continued during the third lap. In the meantime Campari had again succeeded in passing his opponent. Both leaders dashed around the circuit at high speeds, outpacing the rest. Campari was equal to Nuvolari and showed his old competence as an experienced driver. By the time they passed the grandstands at the end of lap three, Nuvolari had regained the lead with a lap of 10m35.8s. Campari, Taruffi and Fagioli followed. Varzi was fifth, now in tandem with Dreyfus, pursued by Zehender, Ghersi, Howe, Brunet, Grosch, Pellegrini, Straight and "Hellé Nice" last, who pitted once again for spark plugs.
Throughout the fourth lap Nuvolari and Campari raced wheel to wheel and by the time they reached the grandstands Campari had edged by and was half a car's length ahead, a total time of 43m00.6s. Meanwhile Fagioli in the Scuderia Alfa passed Taruffi's privately entered Maserati, but they were already 40 seconds behind the two leaders. After a gap, Varzi came by in the first of the Bugattis followed seven seconds later by his team mate Dreyfus. Then came the stragglers, Zehender, Ghersi, Howe and Grosch in tenth place, each one driving a solitary race. Even further back, Pellegrini and Straight had been overtaken by the leaders and were more than 25 kilometers adrift after only four laps. "Hellé Nice" had also been lapped, but in her case it was due to those two pit stops. Brunet's Bugatti was the third car to retire.
On the fifth lap Nuvolari once more passed Campari, but this time he started to pull away. At Spoltore he had two seconds advantage and at Capelle four. He completed the fifth lap with a six seconds lead. Fagioli failed to close his gap on Campari, so there was no problem with the leading Alfa. It was obvious that Nuvolari must have had something in hand during the first laps. Nuvolari's total time was 53m32s, Campari 53m38.6s, Fagioli 54m17.6s and Taruffi 54m43.4s. Varzi maintained his fifth place, followed by Dreyfus, Zehender and Ghersi who retired at the pits. Earl Howe was in ninth place and then came Grosch, Pellegrini, Straight and "Hellé Nice".
Nuvolari finished the sixth lap in 1h04m08.6s, Campari was eight seconds behind at 1h04m16.4s, Fagioli 1h05m03.8s and Taruffi 1h05m44.8s. Varzi led the midfield in fifth position with 1h06m57.2s, followed by Dreyfus 1h09m11.6s, Zehender 1h10m09s and Howe 1h12m36s. In ninth place was Grosch 1h19m00s, Pellegrini 1h22m45s and then the tail-enders Straight and "Hellé Nice".
After seven laps and a record of 10m31.8s, Nuvolari's total time was 1h14m40.4s, leading Campari by 13 seconds. Fagioli was third in 1h15m41.8s, followed by Taruffi, Varzi, Dreyfus, Zehender, Howe, Pellegrini, Grosch, Straight and "Hellé Nice".
Borzacchini came pedaling on the borrowed bicycle, ending his 13.5 km trip along the racetrack at the finish to the amusement of the spectators. After eight laps Nuvolari had increased his advantage over Campari to 16 seconds in a time of 1h25m13.8s. From now on he was the master of the situation and already at this time nobody had any doubts about his final success. After 16.2 seconds came Campari in 1h25m30s, then Fagioli in 1h27m45.8s, Taruffi in 1h29m0.6s, Varzi in 1h29m07.4s, Dreyfus in 1h31m35.4s, Zehender in 1h33m54.4s and Howe in 1h35m35.2s. Pelligrini, Grosch, Straight and "Hellé Nice" were already lapped.
The ninth lap brought a sensation, which improved Nuvolari's position even further. While Campari was chasing after Nuvolari's Maserati for first place, his Alfa Romeo left the road at the proximity of Spoltore and he was thrown out of the car. Two doctors were near the crash site and luckily determined only very light injuries of Campari. Earl Howe mentioned in The Motor 1933 October issue that "Campari took a corner too fast, his car ran up a bank and overturned; fortunately he was not badly hurt. I nearly hit his car, the presence of which I had no warning."
Because of Campari's ill fortune, Fagioli inherited second place but was still 1m11s behind the leader, who completed the ninth lap after 1h35m50s, followed by Fagioli in 1h37m01s and Taruffi in 1h37m48s. Varzi was now fourth in 1h39m14s, and then after much delay came Dreyfus, then Zehender and Howe, while Pelligrini, Grosch and "Hellé Nice" were already lapped. Straight had retired along the track with some mechanical breakdown.
From the tenth lap on, Nuvolari no longer forced the race and everybody was convinced of his earned final victory since Fagioli posed no danger to the leader due to his very steady driving. Zehender was involved in a light crash, when he left the road and retired. Dreyfus encountered a strange incident on the first long straight at top speed. Earl Howe in The Motor 1933 October issue described, "Dreyfus who was driving a Bugatti, had a rather curious accident. He was hit in the middle of the forehead by a bird while going at full speed: he was completely stunned, but was just able to keep control of the car and keep it on the road." Nuvolari finished the tenth lap in the lead, Fagioli second and Taruffi third. Varzi's and Earl Howe's 2.3-liter Bugattis remained in good positions until the end, although they were inferior to the monoposti cars. The injured Dreyfus in sixth position retired at his pit. Next were Pelligrini, Grosch and "Hellé Nice", driving consistent and safe races.
At the end of the eleventh lap the grandstand crowd was expecting Nuvolari to arrive for the last lap, when suddenly, to the immense surprise of everybody, the red Alfa Romeo monoposto of Fagioli came whistling past the Start/Finish line. What had happened? Then 39 seconds later came Nuvolari's Maserati monoposto very slowly towards the pits with a temporarily seized driveshaft universal joint. The Maserati mechanic Guerino Bertocchi poured a bucket of water over the hot and smoking drive shaft to cool off the seized universal joint. Nuvolari then resumed the race in a mighty cloud of steam and smoke. In no way did he have a chance for victory because Fagioli had disappeared long ago. But Nuvolari drove like a man possessed and his effort was only good enough to save second place, just ahead of Taruffi in the other Maserati monoposto.
Nuvolari finished 2m26s after Fagioli and only 3.2 seconds ahead of Taruffi in third place. The spectators gave Nuvolari enthusiastic shouts of acclamation and celebrated him as the moral victor of the day. AUTOMOBIL-REVUE reported that after his arrival when Fagioli was tumultuously celebrated as winner to the tones of the national anthem, he was said to have shouted:" Però il vero vincitore è Nuvolari!" ("But the true victor is Nuvolari!") Everybody was equally convinced about the fact that Nuvolari was actually the moral victor of the race. He had also set the new lap record on the seventh lap in 10m31.8s, an average speed of 145 km/h.
Varzi finished a distanced fourth, 4m25s behind the winner and Earl Howe also completed the 12 laps but was 14m18.4s behind Fagioli. Pellegrini had been lapped once and was flagged off, as were Grosch, twice lapped, and "Hellé Nice" three laps behind.
Results
Pos.
No.
Driver
Entrant
Car
Type
Engine
Laps
Time/Status
Diff

---

1.
62
Luigi Fagioli
Scuderia Ferrari
Alfa Romeo
Tipo B/P3
2.6
S-8
12
2h09m09.6s
2.
52
Tazio Nuvolari
T. Nuvolari
Maserati
8CM
3.0
S-8
12
2h11m35.6s
+ 2m26.0s
3.
38
Piero Taruffi
P. Taruffi
Maserati
8CM
3.0
S-8
12
2h11m38.8s
+ 2m29.2s
4.
34
Achille Varzi
A. Varzi
Bugatti
T51
2.3
S-8
12
2h13m34.6s
+ 4m25.0s
5.
28
Earl Howe
Earl Howe
Bugatti
T51
2.3
S-8
12
2h23m28.0s
+ 14m18.4s
6.
26
Lelio Pellegrini
C. Pellegrini
Alfa Romeo
Monza
2.3
S-8
11
7.
58
Walter Grosch
W. Grosch
Alfa Romeo
Monza
2.3
S-8
10
8.
48
"Mlle Hellé-Nice"
"Mlle Hellé Nice"
Bugatti
T35C
2.0
S-8
9
DNF
30
René Dreyfus
Automobiles E. Bugatti
Bugatti
T51
2.3
S-8
10
injury
DNF
46
Goffredo Zehender
G. Zehender
Maserati
8CM
3.0
S-8
9
crash
DNF
24
Giuseppe Campari
Scuderia Ferrari
Alfa Romeo
Tipo B/P3
2.6
S-8
8
crash
DNF
60
Whitney Straight
W. Straight
Maserati
26M
2.5
S-8
8
mechanical
DNF
50
Pietro Ghersi
Scuderia Capredoni
Alfa Romeo
Monza
2.3
S-8
5
mechanical
DNF
42
Robert Brunet
R. Brunet
Bugatti
T51
2.3
S-8
4
mechanical
DNF
66
Mario U. Borzacchini
M. U. Borzacchini
Maserati
8C 3000
3.0
S-8
0
driveshaft universal joint
DNF
64
Eugenio Siena
E. Siena
Alfa Romeo
Monza
2.3
S-8
0
mechanical
Fastest Lap: Tazio Nuvolari (Maserati) on lap 7 in 10m31.8s = 145.3 km/h (90.3 mph)
Winner's medium speed: 142.1 km/h (88.3 mph)
Weather: sunny, hot.
In retrospect:
Fagioli's race average of 142.149 km/h was the fastest prewar average speed for the Coppa Acerbo, though later races were held over a greater distance and chicanes were introduced, one for 1934 and two more for 1935.
Taruffi followed Nuvolari and Borzacchini from the Scuderia Ferrari to the Maserati camp. The separation of Nuvolari and Borzacchini from the Scuderia has been described at the Nice Grand Prix. At this time Taruffi had still been a member of the Scuderia Ferrari, although relations were strained. The Scuderia Ferrari did not only race cars but also had a motorcycle branch. Besides cars, Taruffi at that time was also racing motorcycles on his own and at the July 30 Montenero race Taruffi on his Norton had beaten Aldrighetti's Rudge, an entry by Scuderia Ferrari. Taruffi received the prize money to the disappointment of the embittered Enzo Ferrari who had just seen a considerable amount of money disappear from his coffer to one of his Scuderia drivers. So, the separation was all about money.
---
<! ****************** STARS ***************************** >
19 August 1933: Derby and District M.C. held the Third Donington Meeting at the Donington Park circuit.
Riding mechanic J. Gordon was killed when J. P Warren's Bugatti hit a tree and turned over during practice and riding mechanic R.O. Wilcoxson gravely injured when A. H. Langley's M.G, turned over in one of the races.
R. F Turner (Austin 0.7L) wins the 1100cc unsupercharged/850cc supercharged and 1500cc supercharged/unsupercharged races, H. Hamilton (M.G. 1.1L) the 1500cc unsupercharged/2000cc unsupercharged race, A. H. L. Eccles (Bugatti 2.3L) the 2500cc supercharged/3000cc unsupercharged and 3000cc supercharged/unsupercharged races.

---


<! ****************** GRAND PRIX du COMMINGES ***************************** >



IX GRAND PRIX du COMMINGES

Saint Gaudens (F), 20 August 1933.
35 laps x 11.005 km (6.838 mi) = 385.2 km (239.3 mi)





Two in a row for Fagioli

by Leif Snellman


The Comminges Grand Prix on the shortened course got off in a bad way when five top drivers made late cancellations, creating disappointing holes in the entry list. Fagioli led the race from the first lap to the last in his Scuderia Ferrari P3 Alfa Romeo and was in his own class. The only one that came close to challenge him during the first laps was Etancelin in an Alfa Romeo Monza. Then Fagioli easily opened up a huge gap and held it for the rest of the race. Etancelin had a miserable five minute refuelling stop, falling from second place to fifth behind the Alfa Romeo Monzas of Wimille, Moll and von Waldthausen.
Since 1925 the Automobile Club du Midi had arranged a motor week in August featuring a Grand Prix race on the magnificent 27 km long circuit between St Gaudens and Montrejeau. The problems with marshalling such a long track and holding the two bridges clear became too much of a burden and in 1933 the road circuit was replaced by a shorter 11 km course on the north side of the Garonne river. The new track turned right in an adversely cambered hairpin near the Valentine bridge and went westward in a series of hard twists before joining the old track near Villeneuve. The 12 km straight had now shrunk to a "mere" 5 km. The shorter course also had the advantage that spectators were to see the cars more often. Much work was done to get the new circuit in order and the organizers made their very best to arrange a fine race. Among other things the old wooden grandstands were replaced by modern concrete constructions.
Entries:
In contrast to previous years the 1933 Comminges GP featured an excellent list of entries.
Tazio Nuvolari and Mario Borzacchini were to drive their Maserati 8CMs as was last year's winner Goffredo Zehender (#3006).
Scuderia Ferrari entered their two new drivers, Giuseppe Campari and Luigi Fagioli, after both had defected from Maserati. They were to drive the P3 Alfa Romeo monopostos, recently released to the Scuderia, after having been locked up at the Portello factory since the beginning of the season.
There were Alfa Romeo Monza entries by Swiss drivers Julio Villars and Horst von Waldthausen, Penya Rhin winner, Chilean Juan Zanelli, Monegasque Louis Chiron with his blue-white Scuderia CC car, Raymond Sommer and Jean-Pierre Wimille racing as a team, "Phi-Phi" Etancelin and Pierre Félix. Last year's runner up, Algerian Marcel Lehoux had just changed from Bugatti to Alfa Romeo Monza and his protégée, the talented Guy Moll, was also to race in a Monza.
Count Czaykowski brought his big 5 liter Bugatti T54 while 2.3 liter Bugattis were entered by Jean Gaupillat, Raoul Miguel and Hungarian Lazlo Hartmann. Upcoming driver Whitney Straight with a Maserati 26M added to an impressive list that would fit even a Grande Épreuve.
Sadly, just before the event five drivers withdrew their entries. Among them were four of the absolute favourites. First Zanelli announced he was a non entry because his new car was not ready. Two days before the race Campari and Chiron withdrew their entries. Chiron's car was still undergoing repairs after the bad crash at the Swedish Summer GP, while Campari had been slightly injured at Coppa Acerbo. He preferred to have a rest and take care of his injuries (perhaps not an unwise decision remembering what had happened to Sir Henry Birkin less than two months earlier).
Then on Saturday 19th, just 24 hours before the race, the Maserati duo Nuvolari and Borzacchini gave, via telegram the devastating news they would not be able to reach Comminges in time. That was quite controversial since the drivers must have been well aware of the race calendar with Comminges coming up just five days after Coppa Acerbo and Marseille a week later. Already on Wednesday they should have been aware of the fact that they would not come.
That news was a catastrophe for the organizers who had relied heavily on those two drivers in the advertising for the race. Naturally the French press was infuriated and had a field day in accusing both the organizers and especially the Italian drivers.
That left Fagioli as the only real foreign "big gun" in the field and the clear favourite.
Practice:
The organizers adopted the new method, introduced at Monaco, to arrange the grid according to practice times.Therefore practice gained some importance even if not all drivers fully realized it.
The practice sessions were dominated by the Alfa Romeos. During Friday practice Guy Moll was fastest putting in a 4m45s lap, corresponding to a speed of 139 km/h. Von Waldthausen was second fastest and Villars third.
During Saturday practice Wimille improved the fastest time to 4m29s (147.2 km/h) and take pole position. Etancelin was second, with a one second slower time, followed by Moll, Sommer and Lehoux. Fagioli did not seem to be in a hurry, his best lap in the P3 was 12 seconds slower than Wimille in the Monza.
Race:
After the motor cycle classes raced in the morning, it was time for the cars. They were lined up in 3-2-3 formation with pole man Wimille on the right side.

26
Moll
Alfa Romeo
4m34s



12
Etancelin
Alfa Romeo
4m30s



18
Wimille
Alfa Romeo
4m29s



40
Fagioli
Alfa Romeo
4m41s



10
Lehoux
Alfa Romeo
4m41s



16
Sommer
Alfa Romeo
4m40s



6
Villars
Alfa Romeo
4m48s



8
Waldthausen
Alfa Romeo
4m41s



30
Czaykowski
Bugatti
4m41s



20
Gaupillat
Bugatti
5m56s



38
Miquel
Bugatti
5m10s



28
Félix
Alfa Romeo
5m06s



22
Zehender
Maserati
-



32
Straight
Maserati
-



24
Hartmann
Bugatti
-


When the flag dropped Etancelin from the middle of the first row was fastest away to take the lead but was soon passed by Fagioli in the Scuderia Ferrari car.
Fagioli was first back over the start line with a 100m lead, having completed the first lap in 4m36s (143.5 km/h). He was followed by the Alfa Romeo Monzas of Etancelin, Wimille, Lehoux, Moll, von Waldthausen and Zehender in the Maserati.. Both Felix and Sommer had problems with their engines and turned into the pit, Sommer retired on the spot.
Etancelin did not give up but managed during the next laps to close in on Fagioli and actually come up beside him once. On the fourth lap Fagioli put his foot down and started to pull away despite Etancelin's best effort to keep in touch. After five laps Fagioli was leading Etancelin by 9 seconds. Wimille was 18 seconds behind, Moll 24 and von Waldthausen 31 seconds. Meanwhile Gaupillat had retired.
Zehender, who had started from the back of the grid was making excellent progress and was third behind Etancelin. Then, after the sixth lap Zehender spun and stalled his Maserati. A spectator rushed uninvited out on the track and started to push the car with the result that Zehender immediately was disqualified.
During the next laps not much changed in the order. Fagioli pulled away from Etancelin and Lehoux fell back with gearbox troubles, pitted and lost a lap. Fagioli continued pushing and drove the fastest lap of the race with a time of 4m29s. After the 13th lap he decided he held enough of a lead and concentrated just on maintaining the distance to Etancelin.
Count Czaykowski retired with engine troubles as did Whitney Straight and Lazlo Hartmann. Pierre Félix was out of the race as well.
After the midpoint of the race the planned fuel stops started. On the 22th lap Etancelin and Wimille came in together. Wimille was fast away but Etancelin's Monza refused to start. For five minutes Etancelin struggled before he finally was able to return to the race, having dropped to fifth position and losing a lap to Fagioli.
Fagioli was leading by several kilometres from Wimille, who had now taken over second position, ahead of Moll. A light rain started to fall at the end of the race but with the huge gaps existing between the drivers they could take it easy. Fagioli took a dominant victory, his second in two starts for Scuderia Ferrari. He was followed by Wimille and Moll. Von Waldthausen was fourth, a lap down, followed by Etancelin in fifth position. The three remaining finishers, Villars, Miguel and Lehoux, who had had an unlucky debut with his Monza, were several laps behind.
Results
---
Primary sources researched for this article:
AUTOMOBIL-REVUE, Bern
IL LITTORIALE, Roma
Motor Sport, London
The Motor, London

---

<! ****************** GRAND PRIX de MARSEILLE ***************************** >




II GRAND PRIX de MARSEILLE

Miramas - Marseille (F), 27 August 1933.
100 laps x 5.049 km (3.137 mi) = 504.9 km (313.7 mi)





Chiron victorious at Miramas but only after Nuvolari's demise.

by Hans Etzrodt


The Marseille Grand Prix, held on the famous Miramas oval course, was one of the fastest events staged this year. The race resulted in a sensational victory for Chiron in the Alfa Romeo monoposto. The Monegasque demonstrated that given the right machine he could again demonstrate his old brilliance. After an early battle between Borzacchini, Nuvolari, Dreyfus, Chiron, Fagioli and Zehender, it was Nuvolari in the Maserati monoposto who eventually maintained the lead until his car broke down near the end of the race. This left the lead between the Alfa Romeos of Chiron and Fagioli. Baron von Waldthausen crashed in the first quarter of the race and the injured driver was taken to the hospital where he died within two hours.
The well known race circuit was located just a few kilometers north of Miramas, which was situated north-west of Marseille. It had been built at great expense for the 1924 Provence Grand Prix. These races took place at this venue annually for the next three years, but after the ruinous 1927 fiasco, the course remained dormant because the promoting company had collapsed due to their poor speculation. Only through the initiative of the A.C. de Marseille could races at Miramas again be held in 1932. The creator of this track, the well known race driver Paul Bablot, had died in December 1932. The 1933 race was the second Grand Prix of Marseille at Miramas. The flat 5.049 kilometer oval track easily allowed speeds of up to 200 km/h, which made it one of the fastest events of 1933. The circuit had to be lapped 100 times, resulting in a total distance of 504.9 km.
Entries:
Although the Albi Grand Prix was held the same day, the international participation of drivers at Miramas was first class. Half of the entries came from drivers who had raced the preceding weekend at Comminges and they drove from there straight to the Marseille track. Amongst them -in finishing order- were the victorious Fagioli, then Wimille, Moll, von Waldthausen, Etancelin, Villars, also Lehoux, Sommer and Félix all of these nine drivers being in Alfa Romeos. Laszlo Hartmann and Gaupillat brought their Bugattis from Comminges and Zehender his Maserati monoposto. Nuvolari appeared with a new works Maserati monoposto and Borzacchini in the Maserati biposto. Campari was also expected to show up in a Maserati. A great surprise was sprung when Chiron, who had recently joined Scuderia Ferrari, appeared in one of the successful Alfa Romeo monopostos. It was expected that he would now finish the season better than it had started for him, when, as an independent driver, he had encountered various setbacks. As already mentioned, Ferrari also entered Fagioli, plus a further as yet unnamed third driver. Additional Alfa Romeos turned up for Rolland, Zanelli and Minozzi. A Bugatti was entered for Mlle. Hellé Nice and another one by Angélo but the factory entry of Dreyfus in the big 4972 cc Type 54 Bugatti was completely unexpected. The Frenchman declared in his memoirs "My Two Lives", that, since the car was late being prepared, he got into it the minute it was ready and drove it about 600 kilometers over bad country roads from Molsheim to Marseille. His mechanic followed in a Type 40 pick-up truck (Cammionette) with spares and equipment.
Practice:
Judging from the practice results, Nuvolari in the quick Maserati monoposto was the favorite to win the race. He was three seconds faster than anybody else, which included the highly praised Alfa Romeo monopostos. On both practice days Nuvolari achieved the fastest lap and reached an average speed of 208.9 km/h. The next fastest drivers were Borzacchini in the Maserati biposto and Moll in his Monza. Chiron in the monposto Alfa ended up in a lowly tenth spot on the grid, possibly saving his car for the race.
Race:
Sunday morning was reserved for motorcycle races. The whole event became a great success in front of an estimated 50,000 spectators. The Grand Prix started at 3:00 PM and the 17 cars left the grid as follows:

12
Wimille
Alfa Romeo
1m32s



20
Moll
Alfa Romeo
1m30s



4
Borzacchini
Maserati
1m30s



2
Nuvolari
Maserati
1m27s



14
Zehender
Maserati
1m36s



38
Etancelin
Alfa Romeo
1m36s



36
Dreyfus
Bugatti
1m34s



34
Fagioli
Alfa Romeo
1m32s



32
Angélo
Bugatti
1m42s



24
Waldthausen
Alfa Romeo
1m39s



42
Chiron
Alfa Romeo
1m37s



8
Lehoux
Alfa Romeo
1m37s



18
Hartmann
Bugatti
1m54s



26
Félix
Alfa Romeo
1m46s



22
Villars
Alfa Romeo
1m45s



10
Sommer
Alfa Romeo
1m45s



28
Hellé-Nice
Bugatti
1m58s


Guy Moll in the first row had the best start, chased by Borzacchini and Etancelin, but by the completion of the first lap Chiron was in front trailed by Nuvolari and Borzacchini. The speed increased continuously. On lap three Nuvolari took top spot but was again passed by Chiron. Nuvolari, Dreyfus and Borzacchini were then right behind. Nuvolari managed to grab the lead on lap five, followed by Chiron, Dreyfus and Fagioli, who had worked himself into fourth place. The spectators witnessed a frantic battle for the lead. On the next lap, to the great applause of the crowd, Dreyfus hustled into the front where he remained for three circuits.
On lap ten, Nuvolari again occupied first place. Dreyfus and Chiron followed right behind, pursued by Zehender and Fagioli. This leading group was never separated by more than 100 meters. For the spectators the race was a first-rate spectacle with the lead changing very often. Nuvolari was in front again on lap 15. An award was paid to the leader at the end of every fifth lap and he had made sure of winning the first three. After 20 laps Chiron was in front, shadowed by Nuvolari, with a time of 32m40s, at an average speed of 185.4 km/h. They had a five seconds advantage over Dreyfus, eight seconds over Fagioli and ten over Borzacchini. The lead had changed constantly and it continued to do so during the following laps until round 25, when Nuvolari led again trailed by Chiron and Dreyfus. The same pattern continued after 30 laps. Nuvolari held the lead at an average of 185.6 km/h with Chiron right behind him. Dreyfus followed in a waiting position three seconds further back. Sommer retired with a leaking tank and Angélo with ignition problems. However, after the first third of the race Chiron had again worked himself to the front.
After lap 34 it became known at the grandstand that Baron von Waldthausen had crashed and broken a leg. Due to a burst tire on lap 20, his Alfa had overturned in the South Curve. The severity of the accident trickled through the public address system only gradually. The driver was brought to the nearby hospital at Salon-de-Provence.
On lap 42, Nuvolari was again in the lead and slowly established an advantage over his followers. Several cars had made pit stops for tires and fuel, including the leading group, causing front runners to fall back. Consequently Borzacchini found himself in first place, which he abandoned when entering the pits on lap 51. After lengthy and futile attempts to get going again his car was ultimately retired due to a broken wheel hub. By then Nuvolari had long gone into the lead, chased by Fagioli, Etancelin, Chiron, Moll and Dreyfus. Etancelin may have found himself in third place due to pit stops by the main contenders, which elevated him near the front. Nuvolari stopped on lap 52 for 1m57s to change four wheels, refuel and get a refreshing drink during this hot race. In the meantime Fagioli's Alfa Romeo had moved into the lead and it took Nuvolari until lap 60 to catch up with him. Moll trailed close behind, Chiron was 35 seconds further back and Zehender one minute. The latter, who had been struggling with his Maserati, stopped at the pits so that Parenti could relieve him for a while.
Dreyfus, the great hope of the large crowd, lost a wheel on lap 56 at a speed of 200 km/h. Only by pure luck did the driver escape a serious accident. AUTOMOBIL-REVUE reported that the wheel, rushing from the track, slightly injured a woman spectator on her arm. Dreyfus, in his memoirs "My Two Lives", states that in one of the two curves he spun several times after losing a wheel, but his car luckily remained on the track. This was not the case with Baron von Waldthausen whose car had spun off the course and turned over on the opposite curve of the oval. After the race Dreyfus and his mechanic inspected the stricken Bugatti. Only then did he learn that the hub had sheared off as well and had flown off the track, landing about 500 meters away where it crashed through the fabric top of a parked touring car.
Etancelin retired on lap 61 with injuries to his left thigh, received from a protruding metal edge of his seat. On lap 70 Nuvolari had four seconds advantage to Fagioli and 1m09s to Chiron. Fagioli then stopped on lap 72 for new tires, which advanced Chiron to second place. At this time it appeared that Nuvolari would be the victor of the race. But then his race ended all of a sudden on lap 80 when he had to stop with a broken rear axle hub. With this retirement the race had lost some of its excitement because the battle between Maserati and Alfa Romeo was unexpectedly decided. Chiron and Fagioli in their Alfa monopostos then battled alternately for the lead.
On lap 91 Chiron made a quick stop at his pits to have the left rear wheel changed in 24 seconds, which enabled him to keep first place ahead of Fagioli. Yet after a few laps the Italian succeeded in passing Chiron, leading on lap 95. Both cars remained very close together until Fagioli had to stop for more fuel. Chiron found himself again in front and was able to hold the lead till the end. He won the race with an advantage of 70 seconds over Fagioli. The Monegasque, who had experienced many disappointments and defeats this year, was celebrated with the greatest enthusiasm and he was naturally very pleased with the outcome of the race. After having driven and won for nine years with Bugatti, this was Chiron's first victory with Alfa Romeo. Moll, who was four laps behind, was fastest of the many 2.3-liter Monzas in third place, followed by Wimille who had been relieved for some laps by Sommer. The Zehender/Parenti combination came fifth and Lehoux sixth. Hartmann was seven laps behind in seventh place, Félix was ten laps behind and Hellé Nice was the last finisher in ninth place, 29 laps short. Nuvolari established the fastest lap, which was exactly two seconds slower than his fastest lap the year before, when he won in one of the Alfa Romeo monopostos. Surprisingly, Zehender had equaled Nuvolari's time of 1m32s.
Results
Pos.
No.
Driver
Entrant
Car
Type
Engine
Laps
Time/Status
Diff

---

1.
42
Louis Chiron
Scuderia Ferrari
Alfa Romeo
Tipo B/P3
2.6
S-8
100
2h49m15.2s
2.
34
Luigi Fagioli
Scuderia Ferrari
Alfa Romeo
Tipo B/P3
2.6
S-8
100
2h50m25.0s
+ 1m09.8s
3.
20
Guy Moll
G. Moll
Alfa Romeo
Monza
2.3
S-8
96
4.
12
J.-P. Wimille/R. Sommer
R. Sommer & J.-P. Wimille
Alfa Romeo
Monza
2.3
S-8
96
5.
14
G. Zehender/N. Parenti
Officine A. Maserati
Maserati
8CM
3.0
S-8
96
6.
8
Marcel Lehoux
M. Lehoux
Alfa Romeo
Monza
2.3
S-8
94
7.
18
László Hartmann
L. Hartmann
Bugatti
T51
2.3
S-8
83
8.
26
Pierre Félix
P. Félix
Alfa Romeo
Monza
2.3
S-8
80
9.
28
Mlle "Hellé-Nice"
Mlle "Hellé-Nice"
Bugatti
T35C
2.0
S-8
71
DNF
2
Tazio Nuvolari
Officine A. Maserati
Maserati
8CM
3.0
S-8
80
rear axle universal joint
DNF
38
Philippe Etancelin
P. Etancelin
Alfa Romeo
Monza
2.3
S-8
60
driver injured inside car
DNF
36
René Dreyfus
Automobiles E. Bugatti
Bugatti
T54
5.0
S-8
55
crash
DNF
4
Mario U. Borzacchini
Officine A. Maserati
Maserati
8C 3000
3.0
S-8
50
broken wheel hub
DNF
10
Raymond Sommer
R. Sommer & J.-P. Wimille
Alfa Romeo
Monza
2.3
S-8
31
leaking fuel tank
DNF
32
Angélo
Ecurie Friederich, Nice
Bugatti
T35B
2.3
S-8
31
ignition problems
DNF
24
Horst von Waldthausen
Equipe Villars-Waldthausen
Alfa Romeo
Monza
2.3
S-8
19
fatal crash
DNF
22
Julio Villars
Equipe Villars-Waldthausen
Alfa Romeo
Monza
2.3
S-8
0
crash
Fastest lap: Nuvolari & Zehender (Maserati) in 1m32s = 197.6 km/h (122.8 mph).
Winner's medium speed: 179.0 km/h (111.2 mph)
Weather: hot, sunny
In retrospect:
After lap 34 it was announced to the grandstands that 26-year old Baron Horst von Waldthausen had crashed in the South Turn. It was said that a tire of his Alfa Romeo had burst at full speed, causing his car to turn over several times. Waldthausen was catapulted out of his car onto the concrete track where he lay severely injured. He was immediately transported in a regular touring car to the next medical depot, from where the Baron was instantly brought to the Salon-de-Provence hospital to be admitted at 5:30 PM. Besides internal injuries, a double fracture of the right leg was diagnosed, also a double shoulder fracture. One hour later he passed away from internal injuries. Baron von Waldthausen had remained fully conscious until the last moment.
---
Primary sources researched for this article:
AUTOMOBIL-REVUE, Bern
L'Auto, Paris
Omnia, Paris
Special thanks to:
Michael Müller
---


<! ****************** ALBI VOITURETTE ***************************** >


I GRAND PRIX d'ALBI
(Voiturette 1500cc)

Les Planques - Albi (F), 27 August 1933
12 laps x 9.226 km (5.733 mi) = 110.7 km (68.8 mi)






Veyron wins again

by Leif Snellman


The voiturette race of the first Albi Grand Prix lost much of its interest immediately at the start as race favourite Bugatti driver Veyron's main threat Vagniez stalled his Maserati. He lost half a minute and then worked his way through the field to reach second position on the last lap but Veyron, who dominated the race, had opened up an uncatchable lead to take a supreme victory.
Organized by Moto Camping Club Albigeois (M.C.C.A.) the first Grand Prix d'Albi was raced on the 9226 m long triangular circuit (see the main race below for details). Plans were made to have a combined race for Grand Prix cars over two litres and the 1.5 litre voiturettes. However, the Grand Prix drivers were not satisfied to have to race together with the voiturette class. Negotiations followed but when they failed to achieve any results by Saturday evening three Grand Prix drivers sent a joint written ultimatum to M.C.C.A. Either there would be changed plans or the drivers would refuse to start. The organizers had to give in and the race was divided into two. A 12 laps race for the voiturettes would be followed by a 22 laps race for the cars over two litres.
Entries:
The voiturette field consisted of seven French drivers. André Vagniez, industrialist from Amiens, raced his Maserati Tipo 26C. Race favourite Pierre Veyron, who had dominated the voiturette races of the season with victories at Avus and Lwow, entered an 8-cylinder Bugatti T51A (#51151) as did Mme. Anne-Cécilie Rose-Itier (#51142). Henri Durand and Alain Guilbaut raced 4-cylinder Bugattis while Emile Dourel and Leurquin entered Amilcars.
Race:
On Sunday morning the sky was grey but soon it was clearing up. Some thirty-five thousand turned up for the event that started off at 10:45 a.m. with motor cycle races.
It was half past two o'clock before the seven voiturette cars lined up two and two on the narrow road in front of the grandstands under a bursting sun.


At 2:55 p.m. race director Monsieur Lery dropped the flag and the race started. Veyron in his Bugatti took the lead followed by Dourel and Guilbaut. Vagniez however stalled his Maserati and it took 30 seconds before he was able to join the race in last position.
At the end of the first lap the race order was Veyron, Guilbaut, Leurquin, Durand, Itier, Dourel and Vagniez. On the second lap Vagniez passed Dourel for sixth position. On the third lap Durand moved past Leurquin's Amilcar to take third position, which soon became second position as Guilbaut fell back trough the field. Veyron was in his own class and had opened up a huge gap to the others. He made five laps in 21m39s (127.8 km/h) and his fifth lap was done in 4m17s (129.2 km/h). He was followed by Durand, Leurquin and Itier. Dourel had retired with a broken valve on his Amilcar.
Vagniez was driving fast with his Maserati and was closing in on the others. On the sixth lap he passed Itier and on the next lap he passed Leurquin as well to reach third position.
After seven laps Veyron was leading Durand by 1m11s, which became 1m17s after the 8th lap. Veyron also put in the fastest lap of the race on the 10th lap with a time of 4m16s (129.7 km/h). Near the end of the race Vagniez passed Durand for second position. However, he was beaten by well over a minute by Veyron, who took the supreme victory. Durand finished third.
Sympathies went to Vagniez, who apart from the start had made an excellent race. It is however doubtful if Vagniez even with a good start would have been able to challenge Veyron.


Results


Pos.
No.
Driver
Entrant
Car
Type
Engine
Laps
Time/Status
Diff

---

1.
50
Pierre Veyron
Pierre Veyron
Bugatti
T51A
1.5
S-8
12
51m44.4s?
Note!
2.
42
André Vagniez
André Vagniez
Maserati
26C
1.5
S-8
12
53m13.0s
3.
48
Henri Durand
Henri Durand
Bugatti
T37A
1.5
S-4
12
53m16.6s
4.
44
Anne-Cécile Rose-Itier
Mme. A. Rose-Itier
Bugatti
T51A
1.5
S-8
12
54m09.8s
5.
56
Alain Guilbaut
Alain Guilbaut
Bugatti
T37A
1.5
S-4
12
55m15.0s
6.
60
Leurquin
Leurquin
Amilcar
1.1
12
DNF
46
Emile Dourel
E. Dourel
Amilcar
1.1
5
mechanical
Fastest lap: Pierre Veyron (Bugatti) on lap 10 in 4m16s = 129.7 km/h (80.6 mph)
Winner's medium speed: 128.0 km/h (79.5 mph)
Weather: sunny.
In retrospect:
As a new minor race raced at the same date as the Marseille Grand Prix the Albi races were mostly ignored by the contemporary newspapers. The reports in my main sources, the books of Bernard Pelassier and Paul Sheldon, are both confusing as they mess up the drivers in second position. Luckily L'Auto had some numbers I could work with including the race order after 5 laps. I think my report should be fairly accurate.

Sadly there were errors in the published intermediate speed, lap speed and results. The winning time was given as 51m44.4s but the given speed, 127.966 km/h, corresponds to 51m54.6s.
---
Primary sources researched for this article:
AUTOMOBIL-REVUE, Bern
L'Auto, Paris
Also:
Bernhard Pelissier : "Albi et ses Grand Prix 1928-1960"
---

<! ****************** GRAND PRIX d'ALBI ***************************** >


I GRAND PRIX d'ALBI

Les Planques -Albi (F), 27 August 1933
22 laps x 9.226 km (5.733 mi) = 203.0 km (126.1 mi)





Braillard scores while Straight spins

by Leif Snellman


The first Albi Grand Prix proved to be a great success even if only eight cars took part in the Grand Prix race. The Grand Prix drivers refused to race together with the voiturettes so the organizers had to do a late decision to run two races instead of one. Swiss Bugatti driver Braillard immediately took the lead and held it to the finish. Straight in a Maserati was able to challenge Braillard but spun and lost a minute but held on to a second position from Falchetto.
Albi is a town in southern France about 60 km northeast of Toulouse. It is the capital of the Tarn dèpartement located between the mountains and the river Tarn.
In 1928 some friends from Albi decided to organize a sports event for cars. To support this they decided to create the Moto Camping Club Albigeois (M.C.C.A.). The result of their planning was a rally type of event named the "Circuit du Tarn" held in 1929. In 1930 the club decided to go further without leaving the circuit idea. With the help of the Automobile Club du Midi at Toulouse they organized a hillclimb for cars and motor cycles at a suburb of Albi under the name "Course de côte de Mascabrières" (literally: course of the house of goats). Winner of the 1930 hill climb was Lormand in a Bugatti. Bugatti proved to be the winning car also when the event was repeated in 1931, this time with Miquel behind the steering wheel, and in 1932 when Lormand was victorious for a second time. By then the decision had been made by the M.C.C.A. to go even further and organize a real Grand Prix race at Albi and they managed to realize that plan in 1933.
Under the direction of club president Francois Flad a lot of planning and work were done throughout the winter 1932-33 and continued until the race took place in August. First of all a fitting place for the event had to be selected and a suitable section of roads was found northeast of Albi on the open fields near the river Tarn. The circuit was 9226 m long and was triangular shaped with sharp corners combining the straights. The corner nearest to Albi was known as Les Planques. From there the race track followed road nº 100, twisting through St. Antonie, and climbed to the little town of St. Juery, where a tight hairpin led the track into regional road nº 69 southwards over a railroad level crossing and a hump. The long fast sector was followed by another tight curve at Montplaisir that led the track to national road nº 99, where another fast sector led back to Albi and Les Planques. On the straight between Les Planques and St. Antonie grandstands were built and on the opposite side of the track pits and garages were raised. The roads had to be widened and the level crossings at St. Juéry and Montplaisir had been improved.
Entries:
Plans were made to have a combined race for Grand Prix cars over two litre and the 1.5 litre voiturettes. There were several entries but in the end only eight Grand Prix cars arrived to face seven voiturettes. Straight entered his Maserati to challenge seven Bugattis. Four of the Bugattis were French entries: Delorme, Jacob, Falchetto and Couzinie. Polish nobleman Czaykowski and Swiss Braillard both had Bugattis painted in red and white to show the national colors even if the color scheme of the cars naturally was totally different. The Bugatti of Spaniard Léoz-Abad was probably red with yellow bonnet. Pierre Félix with an Alfa Romeo Monza was definitely a non starter and probably did not show up at all. The voiturette entries consisted of four Bugattis, two Amilcars and a single Maserati.
Practice:
The Saturday practice session decided the grid positions. Qualifying proceeded without any incidents and Straight and Braillard proved to be fastest to take the grid positions on row one.
However, a problem had turned up. Possibly the drivers had heard from Straight about the fatal crash at the Swedish GP three weeks earlier where racing classes had been mixed. Anyway, the Grand Prix drivers were not satisfied to have to race together with the voiturette class. Negotiations followed but when they failed to achieve any results by Saturday evening, Czaykowski, Braillard and Falchetto decided to send a joint written ultimatum to M.C.C.A. Either there would be changed plans or the drivers would refuse to start. Faced with the seriousness of the situation, the organizers had to give in. They decided to divide the race into two. A 12 laps race for the voiturettes would be followed by a 22 laps race for the cars over two litre.
Race:
On Sunday morning the sky was gray but soon it was clearing up. A huge crowd turned up with about thirty-five thousand eager spectators arriving to see the greatest event of the year in the Albi region. The city of Albi had never seen anything quite like it before. There were people all over the town and track and the small town of St. Juéry had suddenly for a day almost doubled its population.
When the spectators arrived at the track they found to their surprise and joy that they, apart from the motorcycle race, would be watching not only one but two car races.
At 10.45 the motor cycles in three classes departed for the race that would go on for almost two hours. At 14:55 the voiturettes were started and that race was won by Veyron. Finally it was time for the eight big-engined cars to line up on the grid according to their lap times during practice.

18
Braillard
Bugatti



6
Straight
Maserati



16
Falchetto
Bugatti



2
Czaykowski
Bugatti




?
Bugatti




?
Alfa Romeo




?
Bugatti




?
Bugatti


At approximately 16:15 Mr. Azemar, president of the management Committees of the circuit of the Comminges, waved the flag to start the Grand Prix. Braillard immediately took the lead followed by Straight, Falchetto, Czaykowski, Jacob, Delorme, Couzinie and Leoz-Abad.
On the first lap Falchetto passed Straight for second. During the next laps the leading trio opened up a gap to Czaykowski in fourth position.
On the third lap Couzinie spun his Bugatti, lost a lot of time, and was never able to catch up again with the rest of the field.
Slowly Braillard in the lead opened up a gap over Falchetto and Straight, who continued to fight for second position, with Czaykowski further back leading the rest of the field.
On the ninth lap Straight tried to pass Falchetto, failed, then tried once more and passed the Bugatti right in front of the grand stand to the thrill of the spectators. Straight then did his best to reel in Braillard while Falchetto had no chance to keep up with Straight's pace and quickly started to fall behind. Straight then closed in on the leader and while doing so he drove the fastest lap of the race with a time of 3 minutes 44 seconds.
On lap 15 Spanish driver Leoz-Abad had to call it a day. On the next lap Straight finally reached Braillard's Bugatti and was able to challenge for the lead. But while trying to overtake at the sharp Les Planques corner Straight overdid it and spun to the disappointment of the spectators, who by now seemed to have taken the American driver to their own after his spectacular drive. Straight's Maserati remained stalled for about a minute and Falchetto was dangerously approaching, but finally Straight managed to get his car going again and avoided losing his second position. However, with just six laps remaining he had now lost any chance to challenge Braillard for the lead again.
On lap 18 the race lost another competitor as Count Czaykowski retired his Bugatti with technical problems. With four laps to go there were now only six cars left in the race.
Braillard, well clear of the rest, could control the race and cruise towards the flag. In the end he could let the gap to Straight drop to six seconds but Braillard was never in any real danger. The crowd made a formidable ovation for the victor but Straight got his fair share of applauses as well. The duo was followed home by four French drivers, Falchetto in third position, Jacob fourth, Delorme fifth and Couzinie sixth.
After that Swiss victory racing was over for that day and the thirty-five thousand spectators returned home, satisfied of having seen a great event.
Results
Pos.
No.
Driver
Entrant
Car
Type
Engine
Laps
Time/Status
Diff

---

1.
18
Louis Braillard
L. Braillard
Bugatti
T51
2.3
S-8
22
1h25m19.6s?
Note!
2.
6
Whitney Straight
W. Straight
Maserati
26M
2.5
S-8
22
1h25m25.0s
+ 05.4s
3.
16
Benoît Falchetto
B. Falchetto
Bugatti
T51
2.3
S-8
22
1h26m08.0s
+ 48.4s
4.
12
Marcel Jacob
M. Jacob
Bugatti
T35C
2.0
S-8
20
5.
10
Jean Delorme
J. Delorme
Bugatti
T35C
2.0
S-8
16
6.
22
Cousinié
Bugatti
T35
2.0
S-8
14
DNF
2
Stanisłas Czaykowski
Count Czaykowski
Bugatti
T51C
2.0
S-8
18
DNF
26
Genaro Léoz-Abad
G. Léoz-Abad
Bugatti
T35
2.0
S-8
15
Fastest lap: Whitney Straight (Maserati) in 3m44s = 148.3 km/h (92.1 mph)
Winner's medium speed: 144.4 km/h (89.7 mph)
Weather:
In retrospect:
The first Albi Grand Prix was a great success for the M.C.C.A. and for Albi itself. The Albi Grand Prix was to become a highly popular annual event in the racing calendar. The circuit was shortened in 1951 and was then one of several tracks that were closed forever after the 1955 Le Mans catastrophe. Racing was resumed at Albi in 1959 but this time on the nearby aerodrome.

Sadly there were several errors in the published results:
The given voiturette winning time was 51m44.4s but the given speed, 127.966 km/h, corresponds to 51m54.6s.
The given Grand Prix winning time was 1h25m19.6s but the given speed, 144.418 km/h, corresponds to 1h24m19.6s. The latter might be the correct one as Straight lost a minute to Braillard when he spun.
---
<! ****************** STARS ***************************** >
2 September 1933: Nuvolari (M.G Magnette) wins the RAC Tourist Trophy sports car handicap race at Ards near Belfast.
1 September 1934: The RAC Tourist Trophy sports car handicap race is held at Ards near Belfast:

| | |
| --- | --- |
| 1. Tazio Nuvolari | MG Magnette 1.1L |
| 2. Hugh Hamilton | MG Midget 0.7L |
| 3. Rose-Richards | Alfa Romeo 8C-2300 |
| 4. Eddy Hall | MG Magnette 1.1L |
| 5. Earl Howe | 8C-2300 |
| 6. W. R. Baird | Riley .1L |

9 September 1933: Bill Cummings (Miller) wins the Syracuse AAA National Championship race.
---