---


<! ****************** GRAND PRIX D'ORANIE ***************************** >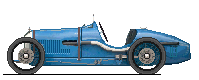 I GRAND PRIX D'ORANIE

Circuit Automobile d'Arcole - Oran (F), 27 April 1930.
35 laps x 9.046 km (5.621 mi) = 316.6 km (196.7 mi)





A lucky victory for de Maleplane

by Leif Snellman


The Oran Grand Prix was raced in three classes with the two bigger classes consisting entirely of Bugattis. The early part of the race was dominated by Lehoux, Etancelin and Zehender but one by one the favourites dropped out and halfway through the race the top three positions were held by Amilcar cycle cars with Dupont leading the race. The retirements continued and finally there were only 7 competitors left out of 19 starters. With one lap to go Dupont had to make a pit stop because of a puncture and de Maleplane (Bugatti) who had fallen back early in the race became a surprise winner followed by Dupont and Doré in a 1.5 litre Bugatti.
The Oran Grand Prix was part of the celebrations of 100 years of Oran as a French province. Organized by l' A.C. d'Oranie the race event included a sports car race on Saturday 26th April and a Grand Prix race on Sunday 27th April. A circuit was chosen near the town of Arcole (Bir-El-Djir) east of Oran. The about 9 kilometre long circuit was made up of four road sections together forming an irregular rectangle. Of the roads, according to l'Auto, one was excellent, two were passable while the last frankly was very bad and was a challenge for the chassis and the suspension. The sports car race was 30 laps long, the Grand Prix 35 laps for a total of about 316.6 km.
Apart for the overall victory the competitors were also fighting for one of the three class victories. The classes were 1100cc, 1101-1500cc and over 1500cc. Prizes for the race overall were 50.000, 30.000, 15.000, 10.000, 8.000, 5.000 and 3.000 Fr. for the top seven positions.
Entries:
The Oran Grand Prix followed six days after a handicap race in Morocco. Some of the participants like Mme. Itier, Lehoux, d'Hiercourt and Zehender drove from Casablanca across the Algerian border to Oran. Most entries were French. The small class included five Amilcars against Mme. Itier's Rally. Emile Dupont raced an ex- André Morel Amilcar single seater.
The two bigger classes consisted entirely of Bugattis. The 1.5 litre class consisted of Bugatti T37s or T37As recognizable by their wire wheels and small radiators. Among the drivers Stanislas Czaykowski raced #37316 and Jean Gaupillat #37317. Race reports seem to indicate Longueville raced a car of 2.0 or 2.3 litre and d'Hiercourt a 1.5 litre car while Paul Sheldon's book have them the other way round.
In the major class René Dreyfus raced the Ecurie Friderich T35B (#4944), Jean de l'Espée an ex-works T35C (#4928 stamping but #4923 in the papers), Philippe Etancelin his newly bought T35C (#4945), Joly probably an old T35A and Lehoux a T35B (#4935) bought in June 1929. Goffredo Zehender had as usual managed to loan a Bugatti from someone.
Dreyfus broke his car during practice but according to a newspaper he was able to borrow a car from Lehoux. (Two weeks later was the GP d'Algerie. Dreyfus raced with an engine loaned from Czaykowski's T43 towing car, so possibly this engine swap actually happened already at Oran.)
Race:
On Saturday a 30 lap sports car race was run on the course. Count Czaykowski was the winner with his 2.3 litre Bugatti T43 with a time of 2h41m13s corresponding to an average speed of 100.996 km/h. Vincenti (Bugatti) finished second, Mollar (Bugatti) third while fourth in a Lorraine-Dietrich was a rather unknown young driver named Guy Moll!
Some 25000 spectators turned up on Sunday for the main event. At 2:30 p.m. Charles Faroux dropped he flag and the race was on its way.


Lehoux took the lead of the race while Czaykowski and Joly missed the start and got away a few seconds behind the rest. Lehoux made the first lap in 4m22s to lead the race followed by Etancelin, Zehender and de l'Espée. De l'Espée however was soon out of the race with a broken engine as was Joly with magneto trouble. On the next lap Gaupillat and Count Czaykowski both had to retire with broken pistons.
De Maleplane joined the fight for the lead with Lehoux, Etancelin and Zehender and for the first four laps there were no change in the order between the four Bugatti drivers. Etancelin took the lead from Lehoux on lap five, but on the next lap Lehoux was back in front position. Fifth in the race was Dupont in his Amilcar.
On the 12th lap a tyre burst on Etancelin's Bugatti and the car overturned at the St Jean Baptiste corner. Fortunately Etancelin survived the crash with only minor back pains.
After 12 laps three more competitors had to call it a day. Zehender had to retire with a broken propeller shaft, Longueville with a burst radiator and Scaron, who had had a troublesome race, retired his Amilcar due to fuel starvation after having made several pit stops for repairs.
While Lehoux held an overwhelming lead with an average speed of 124 km/h, de Maleplane fell back, probably doing a lengthy pit stop, giving over second position to Dupont with his Amilcar. Then suddenly Dupont found himself in the lead when Lehoux retired on lap 14.
With the main contenders gone, after 15 laps the first three positions were held by Dupont, Jacquin and Cloître, all in Amilcar cycle cars. De Maleplane had fallen back to fourth place and Doré followed in fifth position. Dreyfus came to a stop in mid-race when a connecting rod let go in his borrowed Bugatti, causing the engine to explode with some pieces shooting through the Bugatti's hood.
On the 18th lap Jacquin retired with valve trouble and on the 20th it was Cloître's turn to stop because of a broken con-rod.
Dupont held a secure 2m40s lead over de Maleplane and even when the latter was faster and closing in during the latter part of the race and Dupont had to make a stop to refuel it looked certain that the Amilcar driver would sensationally win the race. But at the 34th lap Dupont entered the pit with a flat tyre and during the tyre change de Maleplane passed him to take the lead with just one lap to go.
So de Maleplane was the winner while a disappointed Dupont taking the flag 1m26s later had to be satisfied with the class victory and 2nd position overall. Michel Doré's Bugatti was third, already once lapped by the leader. The race went on for the remaining cars to complete the full distance. Lelio Pellegrini's Amilcar in fourth place completed the 35th lap over 30 minutes later with Jean d'Hiercourt not far away. Mme. Anne Itier was sixth and the last finisher, Bychawski in a Bugatti, completed his 35th lap more than one hour after de Maleplane.


Results



L'Auto magazine took the times for the drivers on a 150 m course section in a sharp turn.
Here are the times:
| | | |
| --- | --- | --- |
| | Lehoux (Bugatti) | 8.8s |
| | Etancelin (Bugatti) | 8.8s |
| | Dupont (Amilcar) | 9.0s |
| | Zehender (Bugatti) | 9.2s |
| | Doré (Bugatti) | 9.4s |
| | Longueville (Bugatti) | 9.4s |
| | de Maleplane (Bugatti) | 9.6s |
| | Cloître (Amilcar) | 9.8s |
| | Scaron (Amilcar) | 9.8s |
| | Jacquin (Amilcar) | 9.8s |
| | Gaupillat (Bugatti) | 10.0s |
| | Pellegrini (Amilcar) | 10.0s |
| | Bychawski (Bugatti) | 10.2s |
| | de l'Espee (Bugatti) | 10.4s |
| | Itier (Rally) | 10.6s |
In retrospect:
Most of the drivers remained in Algeria for the upcoming Algerian Grand Prix handicap race on circuit de Staouéli on May 11th, the third race of the North-African race series.

There is a huge variation between the reports from the various sources and we have had to make some guesses. For example Lehoux retired either with a broken propeller shaft, a magneto failure or a broken con-rod depending on source.
---
Primary sources researched for this article:
AUTOMOBIL-REVUE, Bern
L'Auto, Paris
Echo de Alger, Alger
L'Echo sportif de l'Oranie, Oran
Le Figaro, Paris
Motor Sport, London
Petit Nicois, Nice
Special thanks to:
Michael Müller
---

<! ****************** STARS ***************************** >
27 April 1930: The VII CIRCUIT de l'AISNE was held at the 21.134 km long Cornet d'Or circuit, south of Saint Quintin, North-East France.
Organized by M.C. de l'Aisne and the newspaper Le Matin it included a motor cycle race at 8.30 a.m. and car races at 2 p.m. A total of 25,000 fr was offered as prizes.

Entry list: Results:

Cars up to 1100 cc engine capacity:
66
Edmond Mouche
Morano
67
Just Vernet
Salmson
68
Paul? Treunet
Morano
69
François Givaudan
Rally
70
Jean Delorme
Rally
71
Henri Doublet
Hinstin
72
Anval
Amilcar
Cars up to 1500 cc engine capacity:
75
Henry Auber
Bugatti T37A
76
Louis Pleuget
Bugatti T37A
77
Max Fourny
Bugatti T37A
Cars up to 2000 cc engine capacity:
81
Hervé de Berg
Bugatti T35C
?
Charles Liagne
Bugatti T35C
Cars up to 3000 cc engine capacity:
84
Pol (Paul?)
Bugatti T35B

Cars up to 1100 cc engine capacity:
1.
70
Jean Delorme
Rally
11 laps
2h33m25.4s
- 89.0 km/h
2.
69
François Givaudan
Rally
Cars up to 1500 cc engine capacity:
1.
75
Henry Auber
Bugatti T37A
12 laps
2h16m05.6s
-111.8 km/h
2.
76
Louis Pleuget
Bugatti T37A
12 laps
2h39m57s
Fastest lap: Auber in 10m57s = 115.8 km/h (72.0 mph)
Cars up to 2000 cc engine capacity (sic):
1.
81
Hervé de Berg
Bugatti T35C
? laps
? - 109.2 km/h
2.
84
Pol (Paul?)
Bugatti T35B

The meeting was sadly saddened by the accident which had occurred during Saturday practice session, Charles Liagne from Lille, was ruinning at full speed between the Guingette and the Vert-Chasseur when he lost control of his Bugatti trying to avoid a passenger car. The driver was sent to hospital with a skull francture and died te same evening.
---


<! ****************** TARGA FLORIO ***************************** >




XXI TARGA FLORIO

Medio Circuito Madonie - Palermo (I), 4 May 1930.
5 laps x 108.0 km (67.1mi) = 540.0 km (335.6 mi)





Varzi defeates Chiron in a relentless battle, breaking all existing records

by Hans Etzrodt


The 21st Targa Florio received entries from the entire French Bugatti équipe, to fight against factory teams from Alfa Romeo, Maserati and Officine Mecchaniche, plus many independents, totaling 17 cars at the start. The race developed not only into a duel between Alfa Romeo and Bugatti but more into a gigantic battle between two men: Varzi and Chiron. After almost seven tortuous hours through the mountainous Madonie, it ended with a narrow, well earned victory for Varzi, less than two minutes ahead of Chiron. When only 23 seconds behind on the last lap, Chiron broke two of his Bugatti's wheels and had to cope with a very sick mechanic. In his awesome drive, Varzi had lost the single spare wheel of his Alfa Romeo, sprung a fuel leak, and near the end the back of his car caught fire. The Italian survived all these difficulties in probably his most outstanding drive ever. By breaking the existing records, he ended Bugatti's 5-year string of victories. Conelli, Campari, Nuvolari, Divo, Williams and Morandi drove near the front but were clearly in a lesser rank than the two leading contenders. Maserati, D'Ippolito, Minoia, Borzacchini and Bittmann all survived the over seven hour ordeal, while Maggi, Balestero, Arcangeli, Divo and Ruggeri retired.
The 1930 Targa Florio regulations by Conte Vincenzo Florio did not specify any categories for the racing cars, and so it was Formula Libre. The prize money totaled 250,000 lire. For weeks before the start, some drivers of Europe's elite were practicing with greatest care and persistence. Not only had the cars to be prepared, but also the drivers had to study and learn the course. The Medium Madonie Circuit of 108 km length had to be lapped five times bringing the total distance to 540 km. One lap of the Polizzi circuit, in use since 1919, included about 1400 corners through the mountainous Madonie region, making the Targa Florio a race of over 7000 corners. The narrow circuit with its steep gradients was a true measure for driver and machine. The start and finish took place at the Cerda train station. The road led several miles up to Cerda village at 273 meters altitude. From here the course twisted uphill through Caltavuturo at 640 meters. From this village the tight, twisting circuit wound along the Madonie Mountains and turned back past a depot in the town of Polizzi, 917 meters above sea level. Next tortuous hairpin bends followed, snaking downhill through the mountain village of Collesano at 500 meters and further on to Campofelice, just 50 meters above sea level. From there it was downhill along the five km fast coastal straight where it was possible to use top gear and pass other cars. Then the circuit turned inland going uphill back to the start and finish near Cerda.
Entries:
Before the closing date the organization committee had received two dozen entries, 15 from factories and 9 from the private sector. Four of those independent drivers did not appear. The same was true for another four drivers without race numbers who were mentioned in the preview listing of La Stampa. The Italian factories Alfa Romeo, Maserati and O.M. lined up their latest red cars against the blue cars from the French Bugatti team who had won every race here for the last five years. Another victory by a foreign car in this historic Italian race was unacceptable for the extremely patriotic spectators and the now proud fascist country.
The Bugatti team, however, were looking forward to their sixth consecutive victory. Their drivers knew the circuit very well. The team was managed by Meo Costantini, winner of the 1925 and 1926 Targa Florios. They arrived with 140 hp, 8-cylinder, 2.3-liter type 35B grand prix cars. The drivers were Albert Divo, Targa winner the last two years, Count Conelli, second in 1927 and third in 1928, Louis Chiron, fourth in 1928, and "Williams" (William Grover), who was driving here for the first time.
The Alfa Romeo factory team had arrived with two modified 175 hp, eight-cylinder, 2.0-liter P2 grand prix cars for the experienced Achille Varzi and Giuseppe Campari. They also had six of the 102 hp 6C-1750 sports cars, the same type which had won the Mille Miglia. The drivers were Tazio Nuvolari, Count Aymo Maggi, and Pietro Ghersi. During pre-race training it was learned that the demanding 175 hp P2's were very fast. However, the handling was extremely difficult on this twisting, low speed circuit and the cars were too tiring for the drivers. The road holding of the modified P2's was now less precise and the tires wore out too fast. Another problem had showed up about the extreme heat from the engine compartment. The Alfa Romeo team manager Aldo Giovannini and Vittorio Jano, Designer and Engineer, considered these grand prix cars as too dangerous for this circuit. It was decided to scrap the two P2's and use the stripped six-cylinder 1750 cc sports cars instead. Campari, 38 years old, was one of the most experienced and fearless drivers. He had driven in the Targa nine times since 1914, placing second in 1928. He was looking forward to win here but happily took over Ghersi's 1750 sports car because the P2 radiated too much heat towards the driver and the overweight Campari was suffering from it. The 25-year-old Varzi, who was driving here for the first time, preferred the P2's power advantage and insisted on driving the car in which he had won the Alessandria race two weeks before. Also, a preexisting agreement with the factory permitted him to race this converted P2 in the Targa Florio. Reluctantly Jano agreed and selected Ghersi as Varzi's reserve driver since it was not expected that anyone would be able to last the whole 540 km in the fatiguing P2. According to Luigi Fusi, under Jano's supervision the induction system of Varzi's P2 was reverted back to the old layout, with the supercharger blowing through the carburetor. For safety reasons the car was also geared down from its top speed of 225 km/h to 190 km/h. The speed could not be lowered further since a lower ratio was unavailable but provided awesome acceleration.
For the first time, the Maserati factory entered their new 185 hp 8C-2500 type 26M grand prix cars for team leader Baconin Borzacchini and Luigi Arcangeli while Ernesto Maserati and Luigi Fagioli had 2.0-liter 26B's. However, Fagioli did not appear. Officine Meccanice had the type 665 6-cylinder cars, the same model that they entered in the Mille Miglia. Their drivers were the 45-year old Fernando Minoia, Giuseppe Morandi, and Archimede Rosa. Rosa did not start, but the weekend before on April 26 he, with Morandi as co-driver, had won in an O. M. the 975 km long Giro di Sicilia in new record time of 12h27m01.6s.
There were 12 private entrants, comprising the Czech Dr. Otakar Bittmann, Giuseppe Claves and Alessi, all in Bugattis. However, only Bittmann showed up for the start. Alfa Romeo privateers were Guido d'Ippolito, Francesco Sirignano, Pariato, and Tranchiana, all with 6C-1500s but the last three did not appear at the start. Two private entries from Domenico Prince of Cerami, and Cleto Nenzioni with 26B Maseratis also did not appear. There were three entries of independent O. M. 665's for Renato Balestrero, Amedeo Ruggeri, and Galliera. The latter did not show up. Divo, the winner in 1928 and 1929, was considered favorite and many felt that the Alfa Romeos also had a good chance of victory.
Race:
In the first hours of Sunday morning an enormous pilgrimage of local enthusiasts arrived by train, car and on foot. They came to take possession of the best viewpoints around the whole circuit before these were overcrowded. The race was well organized, and the spectators were informed of the latest developments through loudspeakers. From the 24 entries with race numbers, only 17 drivers showed up at the start. Riding mechanics were carried in the Targa Florio. The single car start at Termini began at 9:00 in the morning in order of the starting numbers. The drivers were released at three minute intervals. Borzacchini's Maserati was the first to be sent into the race and Morandi followed next.


| | | | | |
| --- | --- | --- | --- | --- |
| | 9:00 | 2 | Borzacchini | Maserati |
| | 9:03 | 4 | Morandi | O. M. |
| | 9:06 | 6 | Divo | Bugatti |
| | 9:09 | 10 | Maggi | Alfa Romeo |
| | 9:12 | 12 | Minoia | O. M. |
| | 9:15 | 14 | Arcangeli | Maserati |
| | 9:18 | 18 | d'Ippolito | Alfa Romeo |
| | 9:21 | 20 | Maserati | Maserati |
| | 9:24 | 22 | Chiron | Bugatti |
| | 9:27 | 24 | Ruggeri | O. M. |
| | 9.30 | 26 | Balestrero | O. M. |
| | 9:33 | 30 | Varzi | Alfa Romeo |
| | 9:36 | 34 | Bittmann | Bugatti |
| | 9:39 | 40 | Nuvolari | Alfa Romeo |
| | 9.42 | 42 | Williams | Bugatti |
| | 9:45 | 44 | Campari | Alfa Romeo |
| | 9:48 | 46 | Conelli | Bugatti |

Lap 1: Each driver was sent away with cheers by the frenetic crowd. Varzi, in twelfth place with race number 30, took off nine minutes after Chiron and roared away in his typical emotionless, collected style. The cars were timed over the first 17 miles where Varzi was able to make up one minute on Chiron. Varzi came back from the first lap and sped past the grandstands after an unbelievable 1h21m21.6s at a speed of 49.492 mph, breaking Minoia's previous year's record lap of 1h25m17s at 47.215 mph by almost four minutes. Nuvolari in second place was over one minute back, with Campari about half a minute behind. In fourth place followed Chiron. The first six all bettered Divo's lap record from 1929. The opening lap had developed into a most promising race for the Italians and Alfa Romeo. The spectators took this as a sure sign for Alfa Romeo's long overdue victory and a storm of frenzy erupted. After Maggi retired three kilometers from the start and Balestrero ended his race in Polizzi, there were only 15 cars left in the race. The existing lap record established the previous year by Minoia in a Bugatti was broken not only by the three leading Alfa Romeo drivers but also by Chiron, Divo and Conelli in the Bugattis. At the end of lap one the order was:
| | | |
| --- | --- | --- |
| | 1. Varzi (Alfa Romeo) | 1h21m21.6s |
| | 2. Nuvolari (Alfa Romeo) | 1h22m53.6s |
| | 3. Campari (Alfa Romeo) | 1h23m18.4s |
| | 4. Chiron (Bugatti) | 1h23m27.0s |
| | 5. Divo (Bugatti) | 1h24m01.0s |
| | 6. Conelli (Bugatti) | 1h24m43.0s |
| | 7. Morandi (O.M.) | 1h26m10.0s |
| | 8. Maserati (Maserati) | 1h26m27.0s |
| | 9. Borzacchini (Maserati) | 1h26m39.0s |
| | 10. Williams (Bugatti) | 1h26m50.0s |
| | 11. D'Ippolito (Alfa Romeo) | 1h28m37.0s |
| | 12. Minoia (O.M.) | 1h28m47.0s |
| | 13. Arcangeli (Maserati) | 1h29m33.0s |
| | 14. Ruggeri (O.M.) | 1h31m58.0s |
| | 15. Bittmann (Bugatti) | 1h36m49.0s |

Lap 2: The Alfa Romeos and Bugattis were already far ahead of the first Maserati and their advantage was growing. The race was a battle between Bugatti and Alfa Romeo. Varzi's Alfa had a slight advantage over Chiron's Bugatti on the level coast road, while the Bugatti was superior in the mountains. The hard driving Chiron had moved ahead of Campari and Nuvolari on elapsed time. Varzi carried on with almost unabated speed. His second lap was almost identical to his first, only six seconds slower but faster than anyone else, increasing his advantage to Chiron to 3m18s. Chiron's Bugatti was now in second place and an Alfa victory was no longer a certainty. Arcangeli was the third to retire before reaching Polizzi. W.F. Bradley reported in his book that the Italian's Maserati spun off the road in a bend with a locked brake and shot into a field where it rolled over three times. Neither driver nor mechanic was injured but Arcangeli had to retire soon after. Bugatti and O.M. had their main depots in the mountain village of Polizzi. Divo stopped at that depot for fuel, oil and tires for only 58 seconds then rushed on. W.F. Bradley reported that after Divo had driven over a little bridge above a deep ravine, he was fooled by the echo of his own exhaust and thought another car was immediately behind him. When he turned his head to check, he missed the following bend, and his car slid up a very steep slope where it hit a rock which smashed the right front wheel then the Bugatti fell backwards and bent the front stub axle. After the wheel was changed, Divo finished the lap and stopped at the Cerda pits to have the front axle checked. The right stub axle was bent and he was forced to abandon the race at the end of lap two. After two laps, or 216 km the race was down to 13 cars.
| | | |
| --- | --- | --- |
| | 1. Varzi (Alfa Romeo) | 2h42m48.0s |
| | 2. Chiron (Bugatti) | 2h46m06.4s |
| | 3. Nuvolari (Alfa Romeo) | 2h46m30.0s |
| | 4. Campari (Alfa Romeo) | 2h47m00.8s |
| | 5. Divo (Bugatti) | 2h47m50.0s |
| | 6. Conelli (Bugatti) | 2h49m11.0s |
| | 7. Borzacchini (Maserati) | 2h52m15.0s |
| | 8. Williams (Bugatti) | 2h52m30.0s |
| | 9. Morandi (O.M.) | 2h52m46.0s |
| | 10. D'Ippolito (Alfa Romeo) | 2h56m46.0s |
| | 11. Minoia (O.M.) | 2h58m55.0s |
| | 12. Maserati (Maserati) | 3h01m40.0s |
| | 13. Ruggeri (O.M.) | 3h04m46.0s |
| | 14. Bittmann (Bugatti) | 3h14m20.0s |

Lap 3: Varzi ended the second lap in 1h21m26.4s and stopped at the Cerda depot for tires and fuel which took only 1m18s. He needed 1h25m04.8s for the third tour and Chiron, with a fast lap of 1h23m38.2s, had reduced Varzi's advantage to two minutes. Nuvolari in third place also stopped after the second lap to have a serious steering problem checked out. He lost not only several minutes while stationary but also the possibility of competing with Varzi. When Chiron stopped for fuel at Bugatti's main depot in the mountain village of Polizzi, he was told about Nuvolari's delay in the pits. After three laps, or 324 km, the situation was as follows:
| | | |
| --- | --- | --- |
| | 1. Varzi (Alfa Romeo) | 4h07m52.8s |
| | 2. Chiron (Bugatti) | 4h09m45.2s |
| | 3. Campari (Alfa Romeo) | 4h12m18.0s |
| | 4. Nuvolari (Alfa Romeo) | 4h12m30.0s |
| | 5. Conelli (Bugatti) | 4h15m00.0s |
| | 6. Williams (Bugatti) | 4h19m45.2s |
| | 7. Morandi (O.M.) | 4h23m07.0s |
| | 8. D'Ippolito (Alfa Romeo) | 4h28m24.0s |
| | 9. Borzacchini (Maserati) | 4h28m54.0s |
| | 10. Minoia (O.M.) | 4h31m32.0s |
| | 11. Maserati (Maserati) | 4h32m05.0s |
| | 12. Bittmann (Bugatti) | 4h53m01.6s |
| | 13. Ruggeri (O.M.) | 5h00m25.0s |

Lap 4: Minoia in 11th place lost time with a tire defect on his O.M. There were two sections of the Madonie course which earlier spring storms had washed away between Collesano and Campofelice. These hastily repaired stretches were unusually rough and bumpy, causing Varzi's hard suspended P2 to break its spare wheel mountings. Consequently, he lost the spare and the mountings which meant he had to drive without a spare wheel for the rest of the race. Worse, when the spare fell off, the surrounding fuel tank in the car's tail showed damage and had developed a small leak. At the end of lap four, Varzi darted into the pits to refuel and change all tires. He required 1h23m20.2s for his fourth lap, whereas Chiron did it in only 1h21m50.8s and had made up two minutes, lagging just 23 seconds behind Varzi. Campari had to deal with gearbox problems when his car jumped out of third gear. As a result he was passed by Nuvolari. Williams pulled into the pits and collapsed from the strain of his first Targa Florio. The strong Divo who had rested since his retirement at the end of lap two, took over Williams' fallen back Bugatti to do the last lap. When Ruggeri retired his O.M., only 12 cars were left in the race after four laps, or 432 km.
| | | |
| --- | --- | --- |
| | 1. Varzi (Alfa Romeo) | 5h31m13.0s |
| | 2. Chiron (Bugatti) | 5h31m36.0s |
| | 3. Nuvolari (Alfa Romeo) | 5h38m36.0s |
| | 4. Campari (Alfa Romeo) | 5h39m14.0s |
| | 5. Conelli (Bugatti) | 5h39m14.2s |
| | 6. Williams (Bugatti) | 5h48m19.4s |
| | 7. Morandi (O.M.) | 5h50m37.6s |
| | 8. D'Ippolito (Alfa Romeo) | 5h57m50.0s |
| | 9. Maserati (Maserati) | 5h59m47.8s |
| | 10. Minoia (O.M.) | 6h00m44.0s |
| | 11. Borzacchini (Maserati) | 6h02m24.0s |
| | 12. Bittmann (Bugatti) | 6h32m56.8s |

Lap 5: On the last lap Chiron was only 23 seconds behind Varzi but had to make a short stop near Polizzi. Chiron would probably have won if his young riding mechanic had not suffered from car sickness in this, his first race. On left hand corners, the semi-conscious mechanic rolled dangerously against Chiron. On the long run downhill from Polizzi to Collessano, Chiron let his engine scream and made up time. When the Bugatti's rev counter needle went in the red sector most of the time, the inexperienced mechanic panicked and began to operate the hand oil pump. When Chiron turned to knock his hand away, the distraction caused him to misjudge a corner. The Bugatti skidded sideways on loose gravel, crashed into the retaining wall, and broke both left-side alloy wheels. Fortunately, the Bugatti carried two spare wheels. Chiron and his sick mechanic changed the wheels in such a hurry that they left jack and tools by the roadside. But replacing the wheels had cost them more time than they had made up before.
Varzi's pit stop to change tires and refuel at the end of lap four had cost him half a minute of his lead over Chiron. When he left the pits Chiron was leading on the clock. Varzi was driving flat out to make up the lost time, he knew that he had no spare wheel and it was very uncertain whether his fuel would last to the finish with his leaking tank. The downhill section from Polizzi was a triumphant drive for Varzi with the elated Italian crowd rejoicing and swinging small Italian flags. Due to the leak in the tank, his fuel dropped so low that the Alfa's engine began to splutter and misfire on the down stretch to Campofelice. W.F. Bradley wrote that Varzi's mechanic, Tabacchi, had grabbed a can of gas from one of the many stations the Alfa Romeo factory had established around the circuit. To avoid losing valuable seconds, Varzi's daring mechanic knelt on his seat and leant out over the back, was pouring fuel from the spare can into the rear-mounted tank filler while Varzi was racing on. Much fuel was spilled with the car swaying through the bends over the bumpy road and the blast of the slipstream. According to W.F. Bradley's account, when some fuel spilled on the hot exhaust pipe, the back of the car caught fire. Luckily the flames did not engulf the whole tail and ignite the fuel leaking out of the tank or the tank filler. The mechanic began beating frantically at the flames with his seat cushion while the ice cold Varzi hunched down in his seat and drove as fast as possible downhill. Eventually the flames went out as they thundered through Campofelice on to the sea front straight. Varzi went flat out with his geared-down engine screaming the final eight kilometers and the rev counter needle in the red. His fuel and stressed engine had lasted to the end.
It was almost 4:30 in the afternoon when Varzi roared through the finish line in the splendid time of 6h55m16.8s. What tens of thousands had hoped for became reality. Victory went to an Italian driver in a red Italian car. The enormous crowd rejoiced waving their little Italian flags. Varzi's admirers literally pulled him out of his car and lifted him on their shoulders. He had fully earned this hard fought victory. With an average of 78.023 km/h, Varzi had improved Divo's record from last year by more than 20 minutes and broken all existing records. Varzi had needed 1h24m03.8s for his troubled last lap and Chiron, 1m48.8s back in second place, had required 1h25m29.6s. Conelli had worked himself into third place ahead of Campari's delayed Alfa Romeo that kept jumping out of third gear. Nuvolari, slowed with a broken front spring mounting, reached the finish almost ten minutes later. He was the final driver who stayed below last year's winning record time of 7h15m41s set by Divo. Morandi had passed Divo, who struggled in Williams' Bugatti. They were followed by Maserati, d'Ippolito, and Minoia. Borzacchini, who had encountered many problems with the new Maserati 26M grand prix car, was 11th and Bittmann came last but still within the maximum allowable time of 8 hours and 30 minutes.
Prospero Gianferrari, General Director at Alfa Romeo, embraced the victor as did Traffic Minister Italo Balbo from Rome. Designer Vittorio Jano was extremely happy. For years they had longed for an Italian victory in the classical Targa Florio. The whole of Italy was now filled with great satisfaction. In the evening bonfires were burning on the hills.
The Targa win was the climax of the Alfa Romeo P2 rebirth and the last major victory for the P2. On his return to Milan, Varzi received a triumphant welcome for his outstanding performance.
Results
Pos.
No.
Driver
Entrant
Car
Type
Engine
Laps
Time/Status
Diff

---

1.
30
Achille Varzi
S.A. Alfa Romeo
Alfa Romeo
P2
2.0
S-8
5
6h55m16.8s
2.
22
Louis Chiron
Automobiles Ettore Bugatti
Bugatti
T35B
2.3
S-8
5
6h57m05.6s
+ 1m48.8s
3.
46
Caberto Conelli
Automobiles Ettore Bugatti
Bugatti
T35B
2.3
S-8
5
7h03m13.0s
+ 7m56.2s
4.
44
Giuseppe Campari
S.A. Alfa Romeo
Alfa Romeo
6C 1750 GS
1.8
S-6
5
7h03m54.0s
+ 8m37.2s
5.
40
Tazio Nuvolari
S.A. Alfa Romeo
Alfa Romeo
6C 1750 GS
1.8
S-6
5
7h13m01.8s
+ 17m45.0s
6.
4
Giuseppe Morandi
Officine Meccaniche SA
O.M.
665
2.2
S-6
5
7h18m31.6s
+ 23m14.8s
7.
42
"Williams"/A. Divo
Automobiles Ettore Bugatti
Bugatti
T35B
2.3
S-8
5
7h19m51.2s
+ 24m34.4s
8.
20
Ernesto Maserati
Officine Alfieri Maserati
Maserati
26B
2.1
S-8
5
7h29m12.8s
+ 33m56.0s
9.
18
Guido d'Ippolito
Guido d'Ippolito
Alfa Romeo
6C 1500
1.5
S-6
5
7h29m18.0s
+ 34m01.2s
10.
12
Ferdinando Minoia
Officine Meccaniche SA
O.M.
665 S
2.2
S-6
5
7h32m13.8s
+ 36m57.0s
11.
2
Baconin Borzacchini
Officine Alfieri Maserati
Maserati
26M
2.5
S-8
5
7h35m21.0s
+ 40m04.2s
12.
34
Otakar Bittmann
O. Bittmann
Bugatti
T35C
2.0
S-8
5
8h17m16.0s
+ 1h21m59.2s
DNF
24
Amedeo Ruggeri
A. Ruggeri
O.M.
665 S
2.2
S-6
3
mechanical
DNF
6
Albert Divo
Automobiles Ettore Bugatti
Bugatti
T35B
2.3
S-8
2
axle
DNF
14
Luigi Arcangeli
Officine Alfieri Maserati
Maserati
26M
2.5
S-8
1
crash
DNF
26
Renato Balestrero
R. Balestrero
O.M.
665 S
2.2
S-6
0
DNF
10
Aymo Maggi
S.A. Alfa Romeo
Alfa Romeo
6C 1750 GS
1.8
S-8
0
Fastest lap: Achille Varzi (Bugatti) in 1h21m21.6s = 79.6 km/h (49.5 mph)
Winner's medium speed: 78.0 km/h (48.5 mph)
Weather: dry, sunny and warm.
---
Primary sources researched for this article:
Allgemeine Automobil-Zeitung, Berlin
Allgemeine Automobil-Zeitung, Wien
AUTOMOBIL-REVUE, Bern
AZ-Motorwelt, Brno
LA STAMPA, Milano
MOTOR, Berlin
Motor Sport, London
MOTOR und SPORT, Pössneck

---
<! ****************** STARS ***************************** >
11 May 1930: The Grand Prix de Vitesse d'Algerie was held as a handicap race.
Results: 1. Philippe Etancelin (Bugatti 2.3 litre) 274.728 km. 2 Marcel Lehoux (Bugatti 2.3 litre) 267.025 km. 3. René Dreyfus (Bugatti 2.3 litre) 265.224 km. 4 José Scaron (Amilcar 1.1 litre) 255.3 km. 5 Jean de Maleplane (Bugatti 2.0 litre) 253.6 km. 6. Stanisłas Czaykowski (Bugatti 1.5 litre) 259.6 km.
---