---


<! ****************** COPPA ETNA ***************************** >


COPPA ETNA

Circuito di Gelso Bianco - Catania (I), 20 May 1928.
10 laps x 35 km (21.75 mi) = 350 km (217.5 mi)






Borzacchini wins the Coppa Etna with Maserati

by Hans Etzrodt


The spell was broken. Maserati finally triumphed interrupting the string of nine blue Bugatti victories from Tripoli to Messina. The red Maseratis secured three places in the top four at the finish. Varzi (Bugatti) took the lead on the first lap while Nuvolari crashed his Bugatti. When Varzi retired on the second lap, Aymini (Delage) took the lead until he crashed on lap five when Heusser (Bugatti) held first place and Einsiedel (Bugatti) was second. After Heusser and Einsiedel retired with mechanical problems, Giusti (Bugatti) became the new leader on lap seven. Borzacchini (Maserati) who had lost much time after the first lap continuously improved his position to gain first place on lap eight and never relinquished his lead until the finish. Local hero Giusti came second ahead of Marano and Fisauli both in Maseratis. From 32 starters only 14 cars were classified. A fatal accident happened on the third lap at Piazza Palestro when "Glauco" lost control of his Bugatti, careering into the dense crowd.
The Coppa Etna was held for the first time in 1925, again in 1926 and 1928 was the third and last time. The Automobile Club Catania organized the event on the 35 km Circuito di Gelso Bianco which had to be lapped 10 times, a total of 350 km. It was the third race in Sicily within 14 days, but it was different from the Targa Florio and the Coppa Messina which were similar with their rough roads. In marked comparison the Catania race took place on a very fast mixed circuit. The slopes were mild and long straights and flat sections abounded. The Sports Commission had been working hard to put up spacious grandstands and a convenient signaling service for the competitors. Important work had been undertaken to improve the roads for this year's race. A major project involved the removal of the famous "Zeta" curve between the two straights, which was changed into a single very long road section. This year the records were expected to be broken. Speeds were expected to go above 100 km/h for the fastest lap and over 90 km/h for the race average. In the preceding 1926 race, Aymo Maggi drove the fastest lap in 22m7.6s at 94.908 km/h and the whole 350 km race in 3h54m05s at an average of 89.809 km/h.
Although the organizers designated the race under the name Coppa Etna, the event was referred to as Circuito del Gelso Bianco, taking a cue from the lush mulberry tree. The circuit, which was no wider than five meters, wound its way over 35 km along a twisting and hilly dirt road course of 150 curves. The start, took place at the west side of Catania on the straight via Acquicella heading north uphill for a short distance before entering the Piazza Palestro where the pits and grandstands were located. The Piazza was packed with spectators in the stands, on the terraces, on rooftops and in the pit area. After rounding the Piazza, the course left Catania along via Palermo uphill in a north westerly direction passing through the town of Misterbianco. From here the course turned south-west to Motta Sant'Anastasia at an altitude of 275 meters. From there the road twisted south for eight km downhill to the dangerous left hand curve of Stazione di Motta S.A. Here the course turned east on flat terrain, then north-east back into the west side of Catania. The arrival of the cars on the finish straight was announced by a dampened canon shot.
Entries:
Thirteen of the drivers had raced at the Coppa Messina the week before, namely Nuvolari, deSterlich, Ciolino, Borzacchini, Bassi, Fisauli, Marano, Varzi, Aymini, d'Agata, Heusser (a Swiss living in Germany), the German Countess von Einsiedel and Cucinotta. Two local heroes were at the start: Giorgio Ciolino from Catania with a San Giorgio which was actually a Fiat 509 Special. The other was Antonino d'Agata with a 1500 Bugatti. Other Sicilians from Messina included Piccolo Cucinotta (Bugatti), just called Piccolo and Salvatore Marano (Maserati). On the day of the race, Carlo Gasperin (Alfa Romeo 6C-1500) was replaced at the last moment by Baron Vincenzo Lo Bue and Sangiorgi in the #58 Fiat was substituted by Santapaola. A complete list of 35 entries is shown at the beginning of this report.
Four of the cars, Ferrara (Bugatti), Ruiz (Spa), Indovina (Ceirano) and Amedeo Sillitti, supposedly started but their progress during the race was not mentioned in the press reports. However, Claves (Bugatti 1500), Messina (Amilcar 1100) and Zagame (Fiat) probably did not appear. A total of 32 cars started in the race of which 14 cars were classified.
Race:
An estimated 40,000 spectators witnessed the race. The start on Sunday morning was in order of the race numbers, two cars at a time, at intervals of one minute because of the dust from the dirt roads. The large cars were released first, followed by the 1500 cc class and the 1100 cc cars last. Almost every car carried a riding mechanic and at least one spare wheel. The times of departure were determined beforehand according to the race numbers and if for instance car #32 did not appear at the start, car #34 was held to its predetermined time of departure.

8:00
2
Heusser
Bugatti
4
Bassi
O.M.
8:01
6
Borzacchini
Maserati
8
Ferrara
Bugatti
8:02
10
Nuvolari
Bugatti
12
Ruiz
SPA
8:03
14
Indovina
Ceirano
16
De Sterlich
Diatto
8:04
18
Sillitti
Alfa Romeo
20
Fisauli
Maserati
8:05
22
Varzi
Bugatti
24
Aymini
Delage
8:06
26
De Meo
Bugatti
28
Cucinotta
Bugatti
8:07
30
Lo Bue
Alfa Romeo *
32
Nenzioni
Bugatti
8:08
34
Cicerano
Alfa Romeo
36
Vittoria
Maserati
8:09
38
Schermi
Bugatti
40
Einsiedel
Bugatti
8:10
42
Giusti
Bugatti
44
Scianna
Bugatti
8:11
46
Glauco
Bugatti
48
d'Agata
Bugatti
8:12
50
Marano
Maserati
52
Cerami
Bugatti
8:13
53
Claves
Bugatti
DNS
8:14
54
Messina
Amilcar
DNS
56
Zagame
Fiat
DNS
8:15
58
Santapaola
Fiat *
60
Micciri
Amilcar
8:16
62
Cesarini
Fiat
64
Riccioli
Fiat
8:17
66
Ciolino
San Giorgio
68
Rallo
Fiat
* Gasperin was replaced in last moment by Baron Vincenzo Lo Bue. Sangiorgi was replaced in last moment by Santapaola.
(Note: The 8:13 start for #53, an odd race number for Claves' car, while all other cars had even numbers, was an abnormal situation. It was nowhere explained and may have been a late entry, the last car added to the 1500 cc class. The numbering from #54 up were all for 1100 cc cars. So the organizer squeezed the 1500 cc car #53 in ahead of all the 1100 cc cars.)

At 8:00 AM the starter, Prefect Frontieri, assisted by the chief timekeeper Teoli, released the first pair of cars, the red Bugatti of Heusser and Bassi in his OM, accompanied by the shouts and applause of the enthusiastic crowd. Heusser pulled away in the short climb on via Acquicella to the treacherous curve at Piazzo Palestro. At 8:01 Borzacchini in the red Maserati and Ferrara's Bugatti left the start. At 8:02 great applause erupted again with the start of the fiery Nuvolari, who pulled right away with his Bugatti and ahead of Ruiz's SPA reached the curve at Piazza Palestro. At 8:03 Indovina and the Marquis De Sterlich set off, at 8:04 Sillitti and Fisauli took off accompanied by great applause, the one behind the wheel of his elegant Alfa Romeo RLS and the other with a flaming red Maserati. At 8:05, Varzi's Bugatti and Aymini's 12-cylinder Delage closed the departures of the special class, the large supercharged cars. They were followed by the smaller classes with last pair starting at 8:17.

First lap:
Just over three minutes after the last drivers had left the start a tuned canon shot and a plume of smoke in the bright sky announced the first arrival. The red Bugatti of Heusser appeared lightning fast in front of the grandstands with the fantastic time of 20m24.6s, an average speed of 102.891 km/h. He had shattered Maggi's 1926 record, but Varzi improved upon it by a whisker and jumped into the lead with 20m24.2s. Aymini's Delage was next in 20m47s ahead of Fisauli and Vittoria in Maseratis both trailing by just 19 seconds. Giusti began the race with a conservative pace ahead of Countess von Einsiedel who lapped in 22m17s. The Cantanian Riccioli in his beautiful 509 torpedo Monza SS was leading the 1100 class with a lap of 23m39s ahead of many cars in the larger classes. De Sterlich with his old Diatto made a lap in 22m01.8s.
Nuvolari completed the first lap arriving very slowly at the pits. A brake failure had let him down just after the start at the entrance to the curve of Piazza Palestro and despite his skilled driving technique an impact against the curb which caused the car to overturn fortunately without injuries, put an end to his race. Besides the brake failure, his car had its suspension damaged and the Mantuan resumed the first lap at a casual pace to reach the pits where he retired, leaving the field to Varzi, Heusser, Fisauli and Aymini as the leading contenders. Borzacchini stopped at his pit with a serious loss of power with a time of 30m02.4s losing more than 10 minutes to the leader Varzi. As a result he looked out of contention for victory. Varzi held the lead ahead of the following drivers:
| | | | |
| --- | --- | --- | --- |
| | 1. | Varzi (Bugatti) | 20m24.2s |
| | 2. | Heusser (Bugatti) | 20m24.6s |
| | 3. | Aymini (Delage) | 20m47.0s |
| | 4. | Fisauli (Maserati) | 21m06.0s |
| | 5. | Vittoria (Maserati) | 21m06.0s |
| | 6. | De Sterlich (Diatto) | 22m01.8s |
| | 7. | Giusti (Bugatti) | ? |
| | 8. | Einsiedel (Bugatti) | 22m17.0s |

Second lap:
Varzi retired while in the lead with a seized piston, other sources stated that he had brake trouble. Aymini, with his powerful 12-cylinder Delage, had passed Heusser and was leading the race at the end of lap two ahead of Fisauli, D'Agata, Einsiedel, Giusti, Marano and Vittoria while Heusser temporarily fell back to ninth place. Riccioli was leading the 1100 class. The recovering Borzacchini drove the lap in less than 21 minutes during his tenacious pursuit. Nenzioni und Santapaola, who had replaced Sangiorgi, retired, as did Micciri with the Amilcar and De Sterlich after breaking the universal joint of his Diatto.
After the second lap the order was: Aymini (Delage) first ahead of Fisauli (Maserati), D'Agata (Bugatti), Einsiedel (Bugatti), Giusti (Bugatti), Marano (Maserati), Vittoria (Maserati) in seventh place and Heusser (Bugatti) who had fallen to ninth.

Third lap:
At the end of the third lap Aymini was still in the lead with the beautiful sound of his 12-cylinders Delage, chased by Fisauli's Maserati, while the moving Heusser had advanced from ninth place into third position. Vittoria, after a good start, retired his Maserati and Einsiedel took his position in fifth place overall and first in her class. Riccioli held first place in the 1100 class.
The third lap also marked a tragic accident at Piazza Palestro. The Catanian "Glauco", aka Turiddu Russo, lost control of his 1500 Bugatti and careered into a group of spectators. A 15-year old cabinet-maker apprentice, Mario Eboli, was killed instantly and five people plus "Glauco" and his mechanic were reported to have serious injuries. The meager account of the incident by the journalist of the Giornale di Sicilia is perhaps due to a parochial protection of this local race.
After the third lap the order was: Aymini (Delage) still in the lead, followed by Fisauli (Maserati), Heusser (Bugatti) third, D'Agata (Bugatti) fourth ahead of Einsiedel (Bugatti), Giusti (Bugatti) and Marano (Maserati).

Fourth lap:
Aymini remained in first position while Heusser advanced to second when Fisauli stopped on the road to fix a puncture. He dropped to fifth position, behind Einsiedel and Giusti, who were first and second in the 1500 class. Borzaccchini set a new lap record with the Maserati in 20m4.2s at an average speed of 104.634 km/h. Chasing up from the rear he was now in eighth place overall. Riccioli firmly held the lead in the 1100 class.
After the fourth lap the order was: Aymini (Delage) in the lead, followed by Heusser (Bugatti), Einsiedel (Bugatti), Giusti (Bugatti), Fisauli (Maserati), Marano (Maserati), D'Agata (Bugatti), Borzacchini (Maserati).

Fifth lap:
On the fifth lap the race leader Aymini disastrously crashed off the road and retired. Heusser now found himself in first place and drove a fast lap in 20m08s. He was followed by Einsiedel ahead of Giusti, Marano and Fisauli. Borzacchini in full recovery mode moved into sixth place. Riccioli, leader of the 1100 class climbed into ninth place overall.
After the fifth lap the order was: Heusser (Bugatti) leading Einsiedel (Bugatti), Giusti (Bugatti), Marano (Maserati), Fisauli (Maserati), Borzacchini (Maserati), D'Agata (Bugatti), Schermi (Bugatti), Riccioli (Fiat) and Scianna (Bugatti).

Sixth lap:
No major changes were recorded on the sixth lap while the seventh lap was full of exciting twists.
After the sixth lap the order was: Heusser (Bugatti) leading Einsiedel (Bugatti), Giusti (Bugatti), Marano (Maserati), Fisauli (Maserati), Borzacchini (Maserati), Scianna (Bugatti), D'Agata (Bugatti), Schermi (Bugatti) and Riccioli (Fiat), Cucinotta (Bugatti), Sillitti (Alfa Romeo), Bassi (O.M.), Cerami (Maserati), De Meo (Bugatti), Ciolino (Fiat) and Rallo (Fiat).

Seventh lap:
Both Heusser the gritty Swiss and the bold Bavarian noblewoman Margot Einsiedel retired due to engine failures with their Bugattis, perhaps they had driven too hard. Heusser suffered the failure of a connecting rod and Einsiedel retired with a seized engine bearing. However, the countess had the satisfaction of completing the fastest lap for her class in 21m26.6s at an average speed of 97.932 km/h. The local favorite, Giusti, drove a very good lap and to the excitement of the crowd took the lead of the race. He was 45 seconds ahead of Borzacchini, who was about to launch his final attack. In third place followed the indomitable Fisauli who had recovered much of his lost time, ahead of Marano, Scianna, D'Agata, Schermi, Lo Bue, Riccioli, Cucinotta-Piccolo, Sillitti, Bassi, Cerami, De Meo, Ciolino and Rallo.

Eighth lap:
Borzacchini was determined to catch Giusti, completing the lap in the amazing time of 19m56.8s, an average of 105.280 km/h. This was forever to remain the record lap of the Coppa Etna. Borzacchini commandingly took the lead from Giusti whose dream of victory faded away. He was unable to hold on to the lead of the race with his small 1500 Bugatti despite the advantage of his perfect circuit knowledge. Giusti headed the Maseratis of Marano and Fisauli, followed by D'Agata, Schermi, Lo Bue, Scianna and the O.M. of Bassi. The eighth lap marked the retirement of Riccioli, who had dominated the 1100 class, with mechanical failure and of Sillitti who had been eleventh.
After the eighth lap the order was: Borzacchini (Maserati), Giusti (Bugatti), Marano (Maserati), Fisauli (Maserati), D'Agata (Bugatti), Schermi (Bugatti), Lo Bue (Alfa Romeo), Scianna (Bugatti) and Bassi (O.M.).

Nineth lap:
Borzacchini continued to push and performed the ninth lap with a great time close to his previous record lap. He thus consolidated his lead to Giusti, firmly in second place, ahead of Marano, Fisauli, D'Agata, Schermi, Scianna, Cicerano, Bassi and Cerami.

Tenth lap:
On this last lap, the drivers finished the race at a conservative pace, with the mood to ensure finishing. This applied to all except Borzacchini who perhaps feared a last minute attack by Giusti. He pressed his Maserati and completed his final lap in a remarkable 20m07s. But Giusti was not in a position to respond and finished in second place. After a good race in seventh position, Baron Vincenzo Lo Bue left the road and was forced to retire on the tenth lap. Domenico Rosso di San Secondo Cerami finished tenth with his Maserati. He had been assisted by veteran Antonio Maravigna, a very good driver with perfect knowledge of the circuit. In the 1500 class, Giusti was first, followed by Marano, Schermi, and many others. At the beginning of the tenth lap the Catanian Nino D'Agata, who was in fifth place, turned his Bugatti over at Piazza Palestro but was not seriously injured. This accident triggered off a track invasion by the undisciplined spectators which the police were unable to contain behind the barriers. It also ended the race for the following cars of Ciolino, Rallo and Cesarini. They were stopped and therefore unable to complete their final lap. This was an unfortunate accident and when added to the more serious fatal accident which took place on the third lap it would weigh heavily against any further races at Catania. Despite these accidents, the race had been an undeniable success in many respects.
Results
Pos.
No.
Driver
Entrant
Car
Type
Engine
Laps
Time/Status
Diff

---

1.
6
Baconin Borzacchini
Officine Alfieri Maserati
Maserati
26B
2.0
S-8
10
3h35m23.4s
2.
42
Angelo Giusti
A. Giusti
Bugatti
T37A
1.5
S-4
10
3h39m20.8s
+ 3m57.4s
3.
50
Salvatore Marano
S. Marano
Maserati
26
1.5
S-8
10
3h41m08.2s
+ 5m44.8s
4.
20
Federico Fisauli
Baron F.Fisauli
Maserati
26B
2.0
S-8
10
3h48m29.6s
+ 13m06.2s
5.
38
Ottavio Schermi
Cavaliere O. Schermi
Bugatti
T37A
1.5
S-4
10
3h50m45.0s
+ 15m21.6s
6.
44
Giovanni Scianna
G. Scianna
Bugatti
T37A
1.5
S-4
10
3h51m02.0s
+ 15m38.6s
7.
34
Domenico Cicerano
D. Cicerano
Alfa Romeo
6C-1500
1.5
S-6
10
3h51m24.0s
+ 16m00.6s
8.
28
Letterio Piccolo Cucinotta
L. Piccolo Cucinotta
Bugatti
T37A
1.5
S-4
10
3h52m00.6s
+ 16m37.2s
9.
4
Aldo Bassi
A. Bassi
OM
665 S
2.0
S-6
10
3h55m07.8s
+ 19m44.4s
10.
52
Domenico R. di Cerami
Prince D. Rosso di Cerami
Bugatti
T37A
1.5
S-4
10
3h55m30.0s
+ 20m06.6s
11.
26
Antonio De Meo
A. De Meo
Bugatti
T37A
1.5
S-4
10
4h32m24.0s
+ 57m00.6s
12.
66
Giorgio Ciolino
G. Ciolino
San Giorgio
Fiat 509
1.0
S-4
9
4h14m52.0s - flagged, crowd invasion
13.
62
Gino Cesarini
G. Cesarini
Fiat
509 S
1.0
S-4
9
4h15m02.0s - flagged, crowd invasion
14.
68
Ezio Rallo
E. Rallo
Fiat
509 S
1.0
S-4
9
flagged, crowd invasion of the track
DNF
48
Antonino "Nino" d'Agata
A. d'Agata
Bugatti
T37A
1.5
S-4
9
crash
DNF
30
Vincenzo Lo Bue
Baron Vincenzo Lo Bue
Alfa Romeo
6C-1500
1.5
S-6
9
crash
DNF
64
Eugenio Riccioli
Cavaliere E. Riccioli
Fiat
509 S
1.0
S-4
7
mechanical
DNF
18
Amedeo Sillitti
Baron A. Sillitti
Alfa Romeo
RL
3.0
S-6
7
mechanical
DNF
40
Margot Einsiedel
Countess von Einsiedel
Bugatti
T37A
1.5
S-4
6
engine bearings
DNF
2
Huldreich Heusser
H. Heusser
Bugatti
T35B
2.3
S-8
6
connecting rod
DNF
24
Giulio Aymini
Count G. Aymini
Delage
2LCV
2.0
V-12
4
crash
DNF
36
Giuseppe Vittoria
G. Vittoria
Maserati
26
1.5
S-8
2
retired
DNF
46
"Glauco"
"Glauco" (Turiddu Russo)
Bugatti
T37A
1.5
S-4
2
crash
DNF
22
Achille Varzi
Scuderia Nuvolari
Bugatti
T35C
2.0
S-8
1
seized piston or brakes
DNF
16
Diego de Sterlich
Marquis D. de Sterlich
Diatto
20S
2.0
S-8
1
drive shaft universal joint
DNF
32
Cleto Nenzioni
C. Nenzioni
Bugatti
T37A
1.5
S-4
1
retired
DNF
60
Alfio Micciri
A. Micciri
Amilcar
1.1
1
retired
DNF
58
Santapaola
Santapaola
Fiat
509 S
1.0
S-4
1
Sangiorgi was the initial entry
DNF
10
Tazio Nuvolari
Scuderia Nuvolari
Bugatti
T35C
2.0
S-8
1
crash damage
DNF
8
Giovanni Ferrara
G. Ferrara
Bugatti
T35C
2.0
S-8
?
driver not mentioned in reports
DNF
12
Rosario Ruiz
R. Ruiz
SPA
2.7
S-4
?
driver not mentioned in reports
DNF
14
Giuseppe Indovina
G. Indovina
Ceirano
3.0
S-4
?
driver not mentioned in reports
Fastest lap: Baconin Borzacchini (Maserati) on lap 8 in 19m56.8s = 105.3 km/h (65.4 mph).
Fastest lap (1500cc): Margot Einsiedel (Bugatti) on lap 5 in 21m26.6s = 97.9 km/h (60.9 mph).
Fastest lap (1100cc): Eugenio Riccioli (Fiat) on lap 3 in 23m15s = 90.3 km/h (56.1 mph).
Winner's medium speed: 97.5 km/h (60.6 mph).
Winner's medium speed (1500cc): 95.7 km/h (59.5 mph)
Winner's medium speed (1100cc): 74.2 km/h (46.1 mph)
Weather: sunny and warm.
In retrospect:
Half a year after the 1928 Coppa Etna race, Mount Etna erupted on November 2nd. On November 6th the lava reached the town of Mascali, situated low on the eastern flank of the volcano. The destruction of the town took just over a day but there was an orderly evacuation of its inhabitants. By the next day the town was mostly destroyed. This was the most damaging eruption of Etna since the devastation of Catania in 1669.
---
Primary sources researched for this article:
AUTOMOBIL-REVUE, Bern
Corriere di Catania, Catania
L'Auto Italia
La Gazzetta dello Sport, Milano
Tutti gli Sports, Napoli
Special thanks to:
Alessandro Silva
Rino Rao and his Coppa Etna Book
Signora Donatella Biffignandi

---


<! ****************** TUNIS GP ***************************** >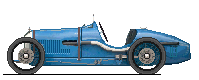 GRAND PRIX DE TUNISIE

Bardo - Tunis (F), 3 June 1928.
40 x 8.023 km (4.985 mi) = 320.9 km (199.4 mi)






Marcel Lehoux wins the first Tunis Grand Prix

by Hans Etzrodt


The Tunis Grand Prix on the fast Bardo road circuit was a minor event but it attracted 21 entries in its first running. From seven large cars the Bugatti of Lehoux was the fastest. He led the race from start to finish followed by Joly in another large Bugatti in second place and Cloître in a fast 1100 cc Amilcar finishing third. Eberhard in a 1500 Bugatti was fourth ahead of two other fast 1100 cc Amilcars driven by Dupont and Jaquin followed by another six finishers. The lack of more detailed press reports turned this into a somewhat obscure event.
In 1928 the Commission Sportive of the Automobile-Club de Tunisie organized the first Grand Prix at Bardo in the North-African French protectorate of Tunisia. The 21 entries were divided into four categories, over 2000 cc, 2000 cc, 1500 cc and 1100 cc. All competitors had to complete 40 laps of the 8.023 km Bardo circuit, a total of 320.92 km. In 1929, the maximum time allowed for all cars was 4 hours from the time of departure. The same time limit may have been set in 1928 but this could not be confirmed. Thereafter the commissioners would stop competitors remaining in the race.
Bardo was a western suburb of Tunis with the start located on a short stretch of Route 5. This led to a slight right kink onto Route 7 and after 300 meters there was another slight right followed by a wide left turn along Route 8 heading uphill north for just over three kilometers to a hairpin near Ettadhamen. From there the circuit turned south along Route de Bab- Bou-Saadoun for a bit over one kilometer with a fast right kink back onto Route 8 going slightly downhill for about 2 kilometers to Ras-Tabia (now Ras Ettabia) where the course made a sharp right turn, heading south-west for a good kilometer downhill back to the Bardo start.
The winner of each class received 10,000 French francs and second 5,000. A grand prize of 30,000 francs was awarded to the overall winner, regardless of category. The grand prize winner was denied the right to participate in the award of any other prize, except for the fastest lap, for which 1,000 francs was awarded.
Entries:
The list of entries at the beginning of this page gives the best overview. The over 2000 cc category comprised four cars of which none were supercharged. Of the three category 2000 cc cars, only the Bugatti of Mme Peltzer was not supercharged.
In the 1500 cc category only the 4-cylinder Bugatti was supercharged. Interestingly, four cycle cars were accepted in the 1500 cc category, two Salmsons, one Fiat and one Amilcar. Since the Bugatti was the only true 1500 car, the four cycle cars, none of which was supercharged, were probably elevated to race for the second prize of 5,000 francs.
There were nine cycle cars in the 1100 cc category, comprising the fast supercharged Amilcars of Jaquin, Dupont and Cloître and the remaining six entries which were much slower.
Race:
The race took place during wonderful tropical weather but due to the tropical heat the start was delayed until 3:00 PM. The crowd around the circuit included mostly locals but also visitors from Italy and France, with many cars arriving from Algeria, Morocco and Tripolitania (Libya). On Sunday afternoon at 3:00 PM the cars began to line up for the start, three cars per row, probably according to their race numbers as was customary at the races following this inaugural event.


Right from the start, Lehoux took the lead in his supercharged Bugatti to keep first place throughout the race. The French Algerian completed the 40 laps in two hours, 39 minutes and seven seconds. The remaining drivers were all several laps in arrears and continued race in an attempt to complete the 40-lap race distance before the 4-hour curfew was reached.' The Tunisian Joly in another large Bugatti, but without a supercharger, was three laps down when Lehoux received the checkered flag and finished second just over 13 minutes behind. Cloître with the fast supercharged 1100 Amilcar finished third. He had also been lapped three times and was little more than a minute and a half behind Joly after 40 laps. In fourth place was Eberhardt in a supercharged 1500 Bugatti who had been eight laps behind, followed by the supercharged Amilcars of Dupont and Jaquin, the latter having been lapped ten times. We believe that all of these first six finishers completed 40 laps while we are less certain about laps completed by the remaining six finishers, the last which had been 17 laps behind. Amongst those last six finishers, the Salmsons of Seyfried and Luciani were entered in the 1500 category, as was Curcurru's Fiat 509 and Vuillemenot's Amilcar.
The destiny of the remaining nine entries is unknown, which of them started in the race and which did not even appear. A Tunis Website mentions entries of 8 Bugattis, 6 Amilcars, 2 Salmsons, 1 BNC and 1 Fiat, which might have comprised the 18 cars that started the race. Based on this information we show the drivers that did not finish: Lamy and Parker both with Bugattis, Dourrel and Novak both in Amilcars and Norton racing a BNC


Results


Pos.
No.
Driver
Entrant
Car
Type
Engine
Laps
Time/Status
Diff

---

1.
Marcel Lehoux
M. Lehoux
Bugatti
T35C - s/c
2.0
S-8
40
2h39m07s
2.
Louis Joly
L. Joly
Bugatti
T35T
2.3
S-8
40
2h52m16s
+ 13m09s
3.
Guy Cloître
G. Cloître
Amilcar
C6 - s/c
1.1
S-6
40
2h53m56s
+ 14m49s
4.
Rudolf Eberhardt
R. Eberhardt
Bugatti
T37A - s/c
1.5
S-4
40
3h12m33s
+ 33m26s
5.
Emile Dupont
E. Dupont
Amilcar
C6 - s/c
1.1
S-6
40
3h14m25s
+ 35m18s
6.
Jacquin
Jacquin
Amilcar
C6 - s/c
1.1
S-6
40
3h16m13s
+ 37m06s
7.
Fernand Seyfried
F.Seyfried
Salmson
1.5
S-4
3h20m22s
8.
Vincenti
Vincenti
Bugatti
T35T
2.3
S-8
3h26m10s
9.
Luigi Luciani
L. Luciani
Salmson
1.5
S-4
3h32m57s
10.
Curcurru
Curcurru
Fiat
509
1.5
S-4
3h35m14s
11.
Roger Vuillemenot
R. Vuillemenot
Amilcar
1.5
S-6
3h42m22s
12.
Marguerite Peltzer
Mme M. Peltzer
Bugatti
T35
2.0
S-8
3h43m23s
DNF
René Lamy
R. Lamy
Bugatti
T35C - s/c
2.0
S-8
DNF
Dourrel
Dourrel
Amilcar
1.1
DNF
Parker
Parker
Bugatti
T35T
2.3
S-8
DNF
Norton
Norton
BNC
527 - s/c
1.1
S-4
DNF
Novak
Novak
Amilcar
1.1
Fastest lap: M. Lehoux (Bugatti) in 3m52s = 124.5 km/h (77.4 mph).
Winner's medium speed (over 2000cc - L. Joly ): 111.8 km/h (69.5 mph).
Winner's medium speed (2000cc - M. Lehoux): 121.0 km/h (75.2 mph).
Winner's medium speed (over 1500cc - R. Eberhardt): 100.0 km/h (62.1 mph).
Winner's medium speed (over 1100cc - G. Cloître) in 2h53m56s at 110.7 km/h (68.8 mph).
Weather: sunny, dry, tropical heat.
In retrospect:
Due to the lack of press reports with more content, little is known about what happened during the race, race numbers remain unknown, also how many cars from the 21 entries started and the grid order is likewise unclear.
---
Primary sources researched for this article:
AUTOMOBIL-REVUE, Bern
L'Afrique-du-Nord-Illustrée, Alger
L'Echo_d'Alger, Alger
Omnia, Paris
---


<! ****************** MUGELLO CIRCUIT ***************************** >


CIRCUITO DEL MUGELLO

Circuito del Mugello (I), 3 June 1928.
6 laps x 61.8 km (38.4 mi) = 370.8 km (230.4 mi)






Materassi victorious at Mugello, wins the Targa Giulio Masetti

by Hans Etzrodt


The 1928 Mugello Circuit race was held in honor of the late Italian champion Count Giulio Masetti as the Targa Masetti and was held on its original long circuit. The battle between 33 entries comprised 6 Alfa Romeos, 4 Maseratis, 4 Bugattis, 3 Fiats, 5 Salmsons, 2 Amilcars, 2 Chryslers, and 1 each of Talbot, Derby, Marino and Fiat-Barsanti. The cars started individually in Targa Florio style. Campari with his Alfa Romeo dominated up to the third lap when his car broke down. Materassi (Talbot) inherited the lead and finished first ahead of Presenti and Ferrari, both in Alfa Romeos, Marano (Maserati), Benini (Alfa Romeo) and Fagioli (Salmson). Only 13 cars reached the finish from the 29 cars that had started. A complaint by the Alfa Romeo drivers against Materassi was rejected.
The races on Circuito del Mugello north of Florence were also called the "Little Targa Florio" in the Toscana region of central Italy, because of its many up and downs and its 1691 curves per lap. Mugello was one of the most important race circuits in Italy and was held since 1920 over various course configurations. After a one year suspension the race took place for the eighth time in 1928, but now on its traditional course as used from 1920 to 1924. However, the course was shortened by 3.1 km including various road improvements such as the entire straight stretch of Cafaggiolo and near the start and finish. New grandstands were erected in the same place as in previous years, to hold thousands of people and a restaurant alongside the pits. The cabin of the timekeepers was combined with a large display board to show race times and results so that the news could be disclosed immediately to the public. Loudspeakers announced continuous communications to the audience about the progress of the race. The whole circuit was connected via a telephone system and a special installation of "Radio" stations.
The start was at San Piero a Sieve, 205 meters above sea level, leading with a relatively slight slope to Scarperia, 292 meters. From here the road climbed in just over 10 kilometers to Giogo Pass at the considerable height of 879 meters. From Giogo Pass it descended to Fiorenzuola at 422 meters above sea level and then it climbed again to reach the Futa Pass at 903 meters, which was the highest point of the circuit. From Futa the circuit led through Montecarelli to Bivio di Novoli and returned to the start at San Piero a Sieve. The 61.800 km course ran over six laps, a total of 370.800 km. The Automobile Club di Firenze organized this event under the supervision of the Commissione Sportiva del R.A.C.I. (Reale Automobile Club d'Italia).
The Mugello Circuit was reborn after a one year interruption and dedicated to the much admired Count Giulio Masetti with the Targa Masetti, a tablet-like decorated plate, to be presented to the race winner. The memory of the Florentine hero Giulio Masetti, who had died in a fatal crash during the 1926 Targa Florio, was still fresh in the minds of the Italians, who knew him as "the lion of Madonie" since his dominating Targa Florio victories in 1921 and 1922. The Italian nobleman and race driver from Bagnano village near Florence was the older brother of Carlo Masetti, who was also a race driver.
The prize money might have looked disadvantageous for the small 1100 cc class. There were ten cash prizes of which 4,000 lire were given to each class winner. The overall winner received 30,000 lire and the Targa Masetti.
The first race on this circuit dates back to 1914 when it was called Primo Circuito Toscano and was the first major automobile race to be organized in the Toscana (Tuscany) region. The victory was taken by Silvani with a Diatto. The war interrupted the sport of the Florence AC, but was resumed on June 13, 1920 on the same course when Giuseppe Campari with an Alfa Romeo 40/60 won the first Mugello Circuit race at an average of 60,827 km/h with Carlo Masetti driving the fastest lap in 67.741 km/h. On July 24, 1921, Campari also won the second race at 62.565 km/h, ahead of Ferrari and Sivocci, all three in Alfa Romeos with Sivocci driving the fastest lap at 66,883 km/h. The third race on June 18, 1922 was won by Alfieri Maserati with an Isotta Fraschini winning the first Challenge Trophy of the Florence AC, at an average of 76,503 km/h, followed by Brilli Peri and Nazzaro with Masetti driving the fastest lap at 72.458 km/h. At the fourth event on June 10, 1923 Brilli Peri won in a Steyr VI at 66.974 km/h ahead of Masetti and Ascari both in Alfa Romeos with the fastest lap also by Brilli Peri at 71.070 km/h. At the fifth race on August 31, 1924, the winner was Giuseppe Morandi with an O.M. 665 at 65.687 km/h with Brilli Peri's fastest lap at 71.067 km/h. On May 31, 1925 Emilio Materassi in an Itala Spl. won the sixth edition on a shortened circuit of 18.17 km in length. On June 27, 1926, the seventh in the series, Materassi was once more the winner with his Itala on the Cascine circuit. In 1927 the Mugello Circuit race did not take place.
Entries:
Practically all the better known Italian race drivers appeared at the start because Mugello was part of the RACI Italian Championship. This year, as opposed to each preceding race, the victory would definitely be contested between the fastest drivers like Giuseppe Campari, two-time winner on the same circuit and Emilio Materassi the 1927 Italian Champion, also by Brilli Peri and Presenti, by Cattaneo and Fagioli, also by Enzo Ferrari and Pintacuda. Brilli Peri crashed during early practice and was waiting for a new car with which to take part in the race. A complete list of entries is shown at the beginning of this report. From 33 entries 29 appeared at the start. The 1500 cc class comprised 10 cars, 4 started in the 2000 cc class, 3 in the over 2000 cc class and 12 in the 1100 cc class.
The RACI Sporting Commission changed the time of the start from 8:00 AM to 9.30 AM, contrary to what was initially announced. The circuit was to be permanently closed to traffic precisely at 8:00 AM. Access to the stands and along the circuit was allowed until 9:00 AM but limited to pedestrians only. The scrutineering of the cars took place on Friday evening from 6 to 8 PM in the courtyard of the Florence AC headquarters. Those who could not be present would be able to submit their cars on Saturday morning from 7.30 to 8.30 AM in San Piero a Sieve in the paddock.
Practice:
Alfa Romeo practiced a lot throughout the week at an impressive pace. Campari, Presenti and Ferrari had been very busy and for the most part repeated the climb of the Futa, where more effort was required of the cars. Campari collected the most votes as the hugely popular "negher". The Bugattis also did well; the cars seemed to be built specifically for a difficult course like that at Mugello: small, rapid and easy to maneuver. Maserati entered the race but the cars were too slow for the overall win.
The Talbot of Materassi, the Italian champion, was the strongest, the fastest, but the gradients were too steep and he more often than others needed to resort to gear changes. If the tremendous effort of the road would not affect the delicate mechanism of his beautiful car, Materassi could win the race. It is important to remember that the color of Materassi's Talbot, cloaked in blue, referred only to the country of its construction, the project itself emanated from Italian designers Vincenzo Bertarione and Becchia. But this prediction cannot denigrate that of Alfa Romeo and Giuseppe Campari.
On Saturday at 6:00 PM at the Futa Pass a bronze plaque was unveiled in memory of the late Count Giulio Masetti from Bagnano, the race driver who tragically perished April 25, 1926 while racing at the Madonie circuit of the Targa Florio. The initiators of this affectionate tribute to the brave champion were personalities from Firenzuola, Pietramala and the Automobile Club of Florence. They wanted the inauguration of a bronze remembrance plaque to take place on the eve of the eighth Mugello circuit race, the beautiful Tuscan automobile race that Giulio Masetti always preferred to any other. Many members of the Florence AC attended this ceremony.
Race:
In the early hours of Sunday morning enthusiasts filled the grandstands in San Piero a Sieve and others arrived to take possession of the best viewpoints around the entire circuit. Because of the dust from the dirt roads, the cars were started individually at intervals of one minute. De Bernardinis, Frilli and Erminio Fagioli did not appear and neither did Brilli Peri due to an accident during practice. Nevertheless, the best Italian drivers took part in the race when 29 starters appeared at the decorated finish area in front of the grandstand at San Piero a Sieve. The departures began at 9:30 AM Sunday with the start of the 1500 class, followed by the two liters, next those over 2 liters and finally the 1100 cc cars.

9:30
2
Bona
Alfa Romeo
9:31
4
Campari
Alfa Romeo
9:32
6
Presenti
Alfa Romeo
9:33
8
Ferrari
Alfa Romeo
9:34
10
Benini
Alfa Romeo
9:35
12
Marano
Alfa Romeo
9:36
14
Materassi
Talbot
9:37
16
Vittoria
Maserati
9:38
18
Beccaria
Bugatti
The exact order of the drivers following Beccaria's Bugatti was not known, but a total of 29 cars started in numerical order.

On the first lap Campari in the 1500 Alfa Romeo beat the previous record by three minutes and on the second he improved upon this by twelve seconds with a time of 49m58.8s, the fastest lap of the race. Especially interesting for the public was the duel that seemed inevitable between the two great drivers: Campari and Materassi. However, at the beginning of lap three between San Piero a Sieve and Scarperia, Campari was forced to retire with a broken supercharger bearing. At that time Materassi was following two minutes behind in second place. He then took over the lead ahead of Presenti and Ferrari in Alfa Romeos. Materassi had a lead of two minutes over Enzo Ferrari and therefore had no reason to extend his car. Meanwhile Ferrari and Presenti, had a tight duel for the second place. The best Bugatti was Beccaria's; he was sixth on lap four when he had to retire. There was only one slight accident to report, that of Saccomani who went off the road on the last lap and was slightly injured.
Materassi finished after 5h14m54s, followed 3m5s later by Presenti, who managed to keep his second place on the final lap from Ferrari who was only 15s behind. They both fought magnificently: Presenti's fastest lap was 51m39s, while the fastest lap of Ferrari was 51m47s. In fourth place was the young Marano, a new Maserati recruit. He was not yet a full master of his car and showed promise for the future. Two weeks before the race Benini, had bought a 1500 Alfa Romeo chassis and with new body he finished in fifth place. He was the only Alfa Rome driver to have the normal sports car without a supercharger and he made a smooth and rewarding run. Fagioli finished sixth with his Salmson type S. Sebastian with supercharger. Once again he drove a superb race and finished in front of a lot of cars with higher engine displacements. Note that on the third lap the impetuous Luigi Fagioli was fourth with his tiny Salmson. Bona was one of the unfortunates. He encountered ignition trouble just as he left the start and spent about half an hour to repair the cause of his breakdown, which was due to a broken wire. Despite everything he ended up well in seventh place, completing his fastest lap in 53m38s. Borzacchini in eighth position, ended with almost no brakes, after pausing several times. Vittoria brought his Maserati into ninth place ahead of Cattaneo, in his Amilcar "Grand Prix", which was equipped with a supercharger. The soft-spoken driver was a regular competitor at Mugello who displayed his usual confident style and earned an honorable second place in his class. Alverà made his racing reliable with his new car, though not very fast in eleventh place. Biondetti finished twelfth, less than a minute behind but he got what he could from his car. Ricci's Salmson exceeded the allowable time and was not classified. In all, 13 drivers finished from 29 starters. Giovanni Canestrini wrote in La Gazzetta dello Sport "the organization was excellent. The Florence AC who managed this rebirth and this celebration can be proud of its magnificent event."
A protest was filed by the Alfa Romeo drivers against the winner of the Mugello circuit. The reason was that during the pit stop at Scoglio di Castro (half a lap), Materassi's mechanic had removed his goggles. Of course, the protest was rejected by the Florence AC.
Results
In retrospect:
Although the Mugello Circuit race was part of the RACI Italian Automobil Championship, the RACI surprisingly neither published a report nor a review about this race. The various retirements or withdrawals were poorly reported, if at all, especially in the available Italian race reports. We only know about three retirements. It is known that 29 cars started but only 16 of those cars could be identified to have taken part in the race. We cannot determine which of the remaining 13 cars retired from the race or if some of them were among the three that did not appear. This confusion was entirely due to the lack of detailed information in the press.
The second disappointment is the lack of informative reporting by the various sources regarding the progress and happenings during the 5-hour race. Especially the Italian race reports were regrettable with their insignificant ramblings, filling many lines but lacking any meaningful content. As a result this report lacks the depth of information that we usually make available.
---
Primary sources researched for this article:
Automobil Motorsport, Budapest
AUTOMOBIL-REVUE, Bern
La Gazzetta dello Sport, Milano
La Nazione, Firenze
La Stampa, Torino
L'Auto Italiana, Milano
Omnia, Paris
R.A.C.I., Roma
Tutti gli Sports, Napoli
Special thanks to:
Alessandro Silva
Donatella Biffignandi
Otto Grabe

---


<! ****************** REALE PREMIO DI ROMA ***************************** >



REALE PREMIO DI ROMA

Circuito Tre Fontane - Roma (I), 10 June 1928.
30 laps x 13.050 km (8.109 mi) = 391.5 km (243.3 mi)


Note: race #30 was issued to Foresti's Bugatti but he was later given #52 and Morel's Amilcar received #30.



Chiron wins the Royal Rome Grand Prix

by Hans Etzrodt


Since 1925 the Rome Grand Prix had been won every year by Bugatti despite all attempts by the Italians to win their own race. At the fourth running of the event only the official teams from Maserati and Amilcar were present. The international 23-car field comprised 11 Bugattis, 8 Maseratis, 2 Talbots, 4 Amilcars, 2 Delages and one each of Alfa Romeo, Diatto and Tracta. Brilli Peri (Bugatti) led the first 12 laps during a fierce battle with Chiron (Bugatti). Thereafter Chiron took the lead and never looked back. He finished first, followed by Brilli Peri, Materassi (1500 Talbot) and Minoia (1500 Bugatti) in fourth place ahead of Fagioli (1500 Maserati) and Lepori (2300 Bugatti). Materassi and Lepori were category winners while Morel (Amilcar) won the 1100 class. There were 12 finishers. Nuvolari in his Bugatti held third place during the early part of the race. When his engine broke down he retired two laps from the end. Varzi in his 2000 Delage retired early in the race as did Ernesto Maserati in a new 1700 car.
The Reale Premio di Roma was held for the first time in 1925, organized by the Automobile Club di Roma and the Commissione Sportiva del R.A.C.I. (Reale Automobile Club d'Italia). The race was held this year for the 4th time and a new course was selected at the 13.05 km Circuito Tre Fontane, which was also known as Circuito Ostiense. The race went over 30 laps, a total of 391.5 km. The course was a few kilometers to the south of Rome in slightly hilly terrain and was roughly triangular in shape with three sharp turns. The start, opposite the grandstand, was at the northern end of Via Ostiense, which ran northerly between the River Tevere (Tiber) on the west and alongside the railroad to the east. After more or less one km there followed the first sharp right-hand turn, where the road immediately passed under a railroad bridge and through a wide left-hand turn onto the roughly one km uphill stretch of Via Tre Fontane. Next there was a wide right-hander which led south for around four km onto the twisting up and down section of Via Laurentina which ended at the second sharp right turn. At this point the road, Bonifica No. 9, headed west for approximately four km through wide downhill turns, crossing a small rivulet. From here the road proceeded along the flat fast turns of Via di Decima and near its end passed under the second railroad bridge, and was immediately followed by the slowest right-hand turn towards the finish on Via Ostiense. The dirt road sections had been well tarred and despite this coating the dust that was created during the race was a problem for the drivers.
The Reale Premio di Roma brought together many international competitors and had the importance of a Grand Prix because almost all the top Italian drivers and some of the best known French race drivers met to do battle.
All cars were to start together from a grid but in addition to the overall results there were also three categories, the first for cars over 2000 cc, the second over 1500 up to 2000 cc and the third for cars up to 1500 cc. For the 1100 cc cars, as in the other races, the results of the Royal Prix of Rome counted towards this category in the Italian championship, which at that time was led by Riccioti who had three points. The A.C. di Roma had a total prize money fund amounting to 110,000 lire, 50,000 for the first and 35,000 to each of the category winners.
Entries:
Above are listed the 30 entries for this race. Thirteen of the drivers had raced five weeks earlier at the Targa Florio and now met again to do battle in Rome: Varzi, Brilli Peri, Nuvolari, Minoia, Fisauli, Foresti, Borzacchini, E. Maserati, L. Fagioli, de Sterlich, also the Swiss Lepori, Chiron from Monaco and the German Countess von Einsiedel had participated in that race.
From a total of 11 Bugatti entries, eight cars in various configurations appeared for the start. The Bugatti racing team, managed by Meo Costantini supported the independently entered supercharged 2000 cc cars for Louis Chiron, Gastone Brilli Peri and a 2300 cc car for "Williams", though he did not appear, while Ferdinando Minoia was entrusted with a supercharged 1500 cc 8-cylinderT39A Bugatti. Other independent Bugatti entries were made by the Swiss Mario Lepori with a supercharged 2300 cc car and Giulio Foresti with a 2000 cc car. Tazio Nuvolari under his own Scuderia raced his supercharged 2000 cc Bugatti. He started with the same car he had raced at the Targa Florio and Coppa Messina after which his Bugatti actually needed a major overhaul. Two independent 1500 cc Bugattis arrived for the German Countess Margott von Einsiedel and the Italian Cleto Nenzioni.
Maserati was well represented with a total of six cars. For the first time they entered a brand new 1700 cc machine, which was intended as the 1928 grand prix car, the type 26R ("R" in reference to the new style roller bearing crankshaft). The 26R engine ended its dynamometer test only three days before the race and was fitted into a normal 26B chassis to be driven by Ernesto Maserati. Actually Aymo Maggi was supposed to drive the car but since his mother had recently died was replaced by his teammate Ernesto Maserati. The wealthy Mantua property owner Cesare Pastore who used to be partner of the Scuderia Nuvolari, had purchased a 1500 Maserati and had Baconin Borzacchini as his back-up driver. Fagioli drove a recently purchased 1500 Maserati tipo 26 as did Salvatore Marano and Carlo Tonini while de Sterlich raced a 2000 cc tipo 26B on loan from the Bologna factory.
Giulio Aymini drove one of the 2-liter 12-cylinder Delages, which were 1925 grand prix cars and another one was driven by Achille Varzi. Scuderia Materassi arrived with two 1.5-liter 8-cylinder Talbot grand prix cars from 1927 for Emilio Materassi and Giuseppe Morandi. Materassi was quite confident after his victory with the Talbot at Mugello the weekend before where he beat the Alfa Romeos, Maseratis and Bugattis. Bartolomeo de Bernardinis appeared in a modified Diatto with a 5.9-L Hispano Suiza engine.
In the 1100 category the fight was due to be between four Amilcars and one Tracta. This must have been one of the last appearances of the Amilcar Factory team, which arrived with three supercharged, 6-cylinder cars for André Morel, Jules Moriceau and C. Martin. The independent Alfonso Zampieri also raced a supercharged 6-cylinder Amilcar while Michele Baccoli with the 4-cylinder Tracta did not appear.
Race:
On Sunday it was sunny and hot, 30 degrees Celsius (88ºF). A large crowd attended this long anticipated race. At 1:00 PM when there was already considerable activity on the circuit, the gun salute was given to indicate the closing of the circuit and clearing of the track. It was announced that some competitors had relinquished to start, namely "Williams" (Bugatti), Borzacchini (Maserati), Fisauli (Maserati), Saccomani (Bugatti), Bona (Bugatti), Forte (Alfa Romeo) and Baccoli (Tracta) while the indisposed Aymo Maggi (Maserati) was replaced by Ernesto Maserati.
The starting line-up was set for 2:30 PM when the 23 cars were pushed to the start in front of the grandstand at the Magliana railroad station. They lined up in rows of three in order of the official race numbers with the lowest number at the right of the front row. Only ten of the 23 cars and drivers could be matched reliably with their race number. Therefore from the grid of eight rows, only the first two rows can be shown here accurately as identified on film and photographs.

6
Nuvolari
Bugatti



4
Lepori
Bugatti



2
Bernardinis
Diatto



16
de Sterlich
Maserati



14
Brilli Peri
Bugatti



8
E. Maserati
Maserati



26
Varzi
Delage



24
Chiron
Bugatti



18
Aymini
Delage



36
Zampieri
Amilcar



32
Minoia
Bugatti



30
Morel
Amilcar



42
Pastore
Maserati



40
Moriceau
Amilcar



38
Fagioli
Maserati



50
Tonini
Maserati



48
Martin
Amilcar



46
Einsiedel
Bugatti



56
Materassi
Talbot



54
Marano
Maserati



52
Foresti
Bugatti



60
Morandi
Talbot



58
Nenzioni
Bugatti


At 3:00 PM Baroness Avanzo lowered the checkered flag to start the 23 roaring cars. Brilli Peri, "the Lion of Florence" took the immediate lead chased by Chiron from row three and Nuvolari. Two of the cars had a delayed start, one of which was Nenzioni who had an oil pipe break on his Bugatti at the start, which was repaired at his pit after he completed one lap.
During the first lap, the red Bugatti of Brilli Peri maintained the lead, chased by the thundering bunch of Chiron's light blue Bugatti, the red Bugattis of Nuvolari and Minoia ahead of Materassi's light blue Talbot. Brilli Peri steadily pulled away from his pursuers gradually increasing his advantage. At the end of lap one, after just over six minutes the characteristic metallic howl of "Bugatti" was heard and felt down the straight towards the start and finish. After a few moments Brilli Peri passed the grandstand at full speed, with a 6m30.8s lap time at 120.399 km/h average speed, chased by the determined Nuvolari, Chiron and Minoia who were close to each other, the group already slightly detached from the leader. The shortness of the circuit kept the public's attention alive because cars passed by frequently.
On the second lap it was again Brilli Peri in the lead, chased closely by Chiron, who had managed to overtake Nuvolari. Minoia (Bugatti) was leading the 1500 cc category, followed by Materassi in the Talbot, Fagioli in the 1500 Maserati and Zampieri's Amilcar. Moriceau in his Salmson had been involved in a crash with another car and retired on the second lap.
On the third lap the leading positions did not change. The duel between Brilli Peri and Chiron was magnificent to watch. The Florentine maintained the lead, chased by the French driver, with an ever increasing pace.
On lap four Brilli Peri was leading Chiron by 18 seconds while the former cluster of following cars had separated. At this time countess Einsiedel stopped briefly at her pit to have the left rear tire changed in 10 seconds.
On the fifth lap the Frenchman closed the gap to Brilli Peri and on the sixth round Chiron lapped in 6m10s, an average of 126,972 km/h. This was the fastest lap at that time and placed Chiron no more than eight seconds behind the Florentine champion. Two drivers retired on lap five, first Tonini with a broken gasket on his 1500 Maserati, next Varzi with a broken pipe on his Delage. Brilli Peri finished his sixth lap in 6m14s, an average speed of 125 km/h. After six laps the order was:
| | | | |
| --- | --- | --- | --- |
| | 1. | Brilli Peri (Bugatti) | 38m03.0s |
| | 2. | Chiron (Bugatti) | 38m10.8s |
| | 3. | Nuvolari (Bugatti) | 39m21.6s |
| | 4. | Minoia (Bugatti) | 39m53.0s |
| | 5. | Materassi (Talbot) | 40m36.2s |
| | 6. | Lepori (Bugatti) | 42m26.4s |
| | 7. | Morel (Amilcar) | 42m52.0s |
| | 8. | De Bernardinis (Diatto) | 44m38.6s |

There followed the 2000 cc cars of Maserati, Aymini, Foresti, de Sterlich and the smaller cars of Fagioli, Morandi, Pastore, Martin, Marano, Einsiedel, Zampieri and Nenzioni. Moriceau, Tonini and Varzi, had already retired, reducing the field to 20 cars.

After Nenzioni's repair at the beginning of the race, he retired his Bugatti on lap seven with bearing damage. At this point Brilli Peri improved his pace and completed the eighth lap in 6m09s, increasing his advantage to nine seconds. His ninth lap was even faster at 6m8.6s. But then lap by lap, Chiron moved closer to Brilli Peri, eventually in his sight, next he was just a few meters behind the leading Bugatti. The Frenchman must have been going faster to catch up, so his lap times must have been new records, but those lap speeds were not published. In the meantime Materassi's Talbot in the 1500 category tried to gain the lead from Minoia's Bugatti and came seriously close, while Countess von Einsiedel had moved on lap eight into sixth position in her category due to other retirements. On lap nine, Diego de Sterlich retired his large Maserati after changing spark plugs. On the tenth lap Brilli Peri drove another lap record in 5m58.8s at 130.956 km/h average speed. On the same lap Ernesto Maserati decided to quit with the new 1700 Maserati since he felt that the car was not reliable enough to continue. However the new engine was mounted into an old two-liter chassis and this engine was intended for a new chassis that would make its appearance in Cremona on June 24. On lap ten Morandi also retired his Talbot with a broken valve after he had changed plugs. After the tenth lap, Materassi became the leader of the 1500 category. At that time Nenzioni, De Sterlich, Maserati, and Morandi had retired.

The lead changed on lap 13 when Chiron forced his Bugatti into first place by driving a lap in 5m54 s at 132.711 km/h average, passing Brilli in front of the grandstands. Bernardinis had retired his Diatto Special with a broken radiator after 13 laps, which meant that at mid-race, 15 laps, the field was down to 15 cars. At that time Chiron passed the grandstands alone, while Brilli Peri stopped at his pit and lost 3m30s changing tires, refilling fuel and adding cooling water, which shot up three meters into the air when the radiator cap was opened. The spectators spurred him on for a courageous chase. Chiron also had to stop and was able to do so in only 2m34s so that he held a two minute advantage. When Materassi stopped at the pits, he was passed by Minoia and then eagerly attempted to regain the lead in his category. Countess Einsiedel maintained her sixth position in her category, even after she made another pit stop in 1m28s, complaining about the incredible heat and joined the race to lively applause from the grandstand crowd. Here is the order after 20 laps:
| | | | |
| --- | --- | --- | --- |
| | 1. | Chiron (Bugatti) | 2h05m16.0s |
| | 2. | Brilli Peri (Bugatti) | 2h06m56.4s |
| | 3. | Materassi (Talbot) | 2h12m58.4s |
| | 4. | Minoia (Bugatti) | 2h13m55.4s |
| | 5. | Nuvolari (Bugatti) | 2h15m34.0s |
| | 6. | Fagioli (Maserati) | 2h19m43.2s |
| | 7. | Morel (Amilcar) | 2h20m36.0s |
| | 8. | Pastore (Maserati) | 2h21m03.0s |
| | 9. | Aymini (Delage) | 2h22m41.0s |
| | 10. | Einsiedel (Bugatti) | 2h22m56.0s |

There followed in undisclosed order Foresti, Lepori, Martin, Zampieri and Marano, altogether 15 cars were left in the race.

Martin retired his Amilcar after 23 laps. Brilli Peri was unable to catch up with the leading Chiron and gradually the crowd also grasped the dilemma and waited in resignation for the end of the race.
On lap 25 Countess Einsiedel was involved in an accident, which luckily was not too serious. Supposedly two Maseratis in front of her did not want to let her pass. Regardless, the fact is that when her car went into a spin, the countess was thrown out of the car and was left lying on the ground unconscious. Eventually with the help of her riding mechanic, Arthur Wolff, she slowly drove the car back to the pits with a badly bent left front axle. Countess Einsiedel, the only female driver, withdrew from the race but she had been brave and combative. Without her accident she would have ended in a good position, reconfirming her fine race in Sicily.
On lap 28 a great surprise occurred when Nuvolari in third place in his category, after a change of spark plugs, broke a piston on his Bugatti and retired. On the same lap Brilli-Peri stopped once more to change tires and lost 35 seconds. Just after he had left, Chiron passed the grandstand to start his last lap. At that moment a gun salute announced the imminent end of the race.
At the end of lap 30, Chiron passed the finish line at top speed in first place, yet he drove another lap at full speed. He arrived at the grandstand after Brilli Peri had just arrived in second place and was receiving a great ovation from the grandstand crowd, but the Italian appeared to be discontented. An Italian victory was however assured by Materassi, who won the 1500 category with his Talbot, finishing third overall and was followed by Minoia in the small Bugatti. The first Italian car was Fagioli's 1500 Maserati in fifth place. Lepori in sixth position had to change only two tires during the race. As had been expected, he also became victorious, as he was the only one in his category. Aymini who finished in seventh place, did not have an easy task since his Delage was not one of the fastest in the race. Not being a modern car, his 12-cylinder Delage was not easy to set up. The other Delage of Varzi remained in the race for a few laps and then was put out with a broken pipe. Foresti in eighth place took part without much expectation in a Bugatti that already had a respectable career and finished just after Aymini's Delage. Pastore in ninth position had to change plugs on his Maserati. He retired because of illness and was relieved by Borzacchini who later encountered gearbox problems. Morel who finished tenth, changed plugs and had a broken valve. Zampieri in eleventh place also lost many minutes at the pits changing spark plugs and also broke a valve on his Amilcar. Marano finished in twelfth and last position and only lost time with a change of spark plugs.
Results
Pos.
No.
Driver
Entrant
Car
Type
Engine
Laps
Time/Status
Diff

---

1.
24
Louis Chiron
L. Chiron
Bugatti
T35C
2.0
S-8
30
3h05m48.6s
2.
14
Gastone Brilli Peri
G Brili Peri
Bugatti
T35C
2.0
S-8
30
3h10m23.2s
+ 4m34.6s
3.
56
Emilio Materassi
Scuderia Materassi
Talbot
700
1.5
S-8
30
3h15m01.4s
+ 9m12.8s
4.
32
Ferdinando Minoia
F. Minoia
Bugatti
T39A
1.5
S-8
30
3h16m11.2s
+ 10m22.6s
5.
38
Luigi Fagioli
Officine Alfieri Maserati
Maserati
26
1.5
S-8
30
3h28m18.0s
+ 22m29.4s
6.
4
Mario Lepori
M. Lepori
Bugatti
T35B
2.3
S-8
30
3h29m28.6s
+ 23m40.0s
7.
18
Giulio Aymini
G. Aymini
Delage
2LCV
2.0
V-12
30
3h33m05.0s
+ 27m16.4s
8.
52
Giulio Foresti
M. Lepori
Bugatti
T35C
2.0
S-8
30
3h33m50.2s
+ 28m01.6s
9.
42
C. Pastore/B. Borzacchini
C. Pastore
Maserati
26
1.5
S-8
30
3h38m31.4s
+ 32m42.8s
10.
30
André Morel
SNA Amilcar
Amilcar
CO
1.1
S-6
30
3h46m01.2s
+ 40m12.6s
11.
36
Alfonso Zampieri
A. Zampieri
Amilcar
C6
1.1
S-6
30
3h46m03.2s
+ 40m14.6s
12.
54
Salvatore Marano
S. Marano
Maserati
26
1.5
S-8
30
3h47m39.2s
+ 41m50.6s
DNF
6
Tazio Nuvolari
Scuderia Nuvolari
Bugatti
T35C
2.0
S-8
28
broken piston
DNF
46
"Margot" von Einsiedel
Countess von Einsiedel
Bugatti
T37A
1.5
S-4
25
crash damage front axle
DNF
48
Charles Martin
SNA Amilcar
Amilcar
C6
1.1
S-6
23
DNF
2
Bartolomeo De Bernardinis
B. De Bernardinis
Diatto Spl
Hispano S.
5.9
S-4
14
broken radiator
DNF
60
Giuseppe Morandi
Scuderia Materassi
Talbot
700
1.5
S-8
10
spark plugs, broken valve
DNF
8
Ernesto Maserati
Officine Alfieri Maserati
Maserati
26B/26R
1.7
S-8
10
poor reliability of new car
DNF
16
Diego de Sterlich
Marquis D. de Sterlich
Maserati
26B
2.0
S-8
9
spark plugs
DNF
58
Cleto Nenzioni
C. Nenzioni
Bugatti
T37A
1.5
S-4
7
spark plugs, melted bearings
DNF
26
Achille Varzi
F. Valpreda
Delage
2LCV
2.0
V-12
5
broken pipe
DNF
50
Carlo Tonini
C. Tonini
Maserati
26
1.5
S-8
5
broken gasket
DNF
40
Jules Moriceau
SNA Amilcar
Amilcar
CO
1.1
S-6
2
crash with another car
Fastest lap (over 2000 cc): Mario Lepori (Bugatti) on lap 27 in 6m21.2s = 123.2 km/h (76.6 mph)
Fastest lap (2000 cc): Louis Chiron (Bugatti) on lap 12 in 5m54s = 132.7 km/h (82.5 mph)
Fastest lap (1500 cc): Emilio Materassi (Talbot) on lap 29 in 6m02.6s at 129.6 km/h (80.5 mph)
Winner's medium speed (over 2000 cc - Lepori) in 3h29m28.6s at 112.1 km/h (69.7 mph)
Winner's medium speed (2000 cc - Chiron) in 3h05m48.6s at 126.4 km/h (78.6 mph)
Winner's medium speed (1500 cc - Materassi) in 3h15m01.4s at 120.4 km/h (74.8 mph)
Weather: sunshine, hot
In retrospect:
Race numbers - only ten could be confirmed error-free with certainty from photographs, film or by deduction and matched with corresponding drivers. 2 ¾ years later we found the race numbers listed in L'Impero and added them to this report.
For an important event like the 1928 Royal Rome Grand Prix it is surprising that the Italian papers and periodicals omitted in their reports race numbers and starting grid. The intermediate classification times after lap 6 and lap 20 were supplied by the German AAZ magazine while none of the Italian papers and magazines felt the need to do so. What might have been their reasoning or were the time keepers simply not providing that information? It appears that the organizer's time keeping was not up to the task. However, at least there was agreement about the final classification times with very little altercation.

The 20-Hour Touring Grand Prix of Rome on June 16-17 was held the week after the Rome Grand Prix also on the 13.05 km Tre Fontane Circuit. Unfortunately it took place at the same time as the sports car race at Le Mans. The cars were started late in the evening with the decisive battles being fought during the night. After 17 laps equal to 222 km, Presenti/Ramponi with an Alfa Romeo held first place but when they crashed soon afterwards, Minoia/Foresti with a 2300 Bugatti T43 took the lead to win after covering 1994.140 km at 99.707 km/h. In second place was Mancinelli/Bruno in a 1500 Alfa Romeo covering 1955 km at 97.758 km/h.
---
Primary sources researched for this article:
ADAC-Motorwelt, München
Allgemeine Automobil-Zeitung, Berlin
Allgemeine Automobil-Zeitung, Wien
AUTOMOBIL-REVUE, Bern
La Gazzetta dello Sport, Milano
La Stampa, Torino
L'Auto Italiana, Milano
L'Impero, Roma
Lo Sport Fascista, Milano
Omnia, Paris
R.A.C.I., Roma
Tutti gli Sports, Napoli
YouTube - clip: Giornale Luce
Special thanks to:
Alessandro Silva
Donatella Biffignandi
Michael Müller
Robert van den Plasken
---